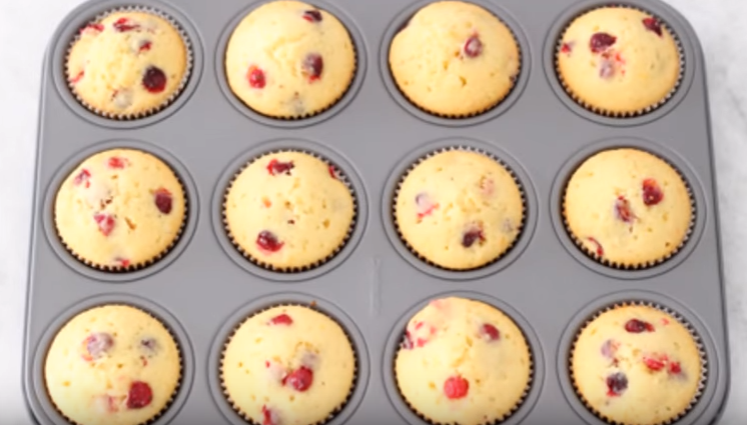 I was asked if I could find a recipe for cranberry muffins, so here is a really great recipe for  cranberry orange muffins that I think you will love .. they would be great to make any time but of course with the Holiday season around the corner they would be great to have for breakfast or brunch then .. yummy
This great recipe has been brought to you by LAB TASTE on YouTube, thanks for sharing this recipe with us
Here below is the recipe and the video tutorial both from the YouTube channel
Cranberry Orange Muffins
Ingredients
1 cup cranberries, fresh or frozen
¾ cup (12 Tablespoons) butter, softened
1¼ cups sugar (plus 2 Tablespoons for the cranberries)
¼ cup orange juice
1-2 teaspoons orange zest
3 large eggs
1 teaspoon vanilla extract
1½ cups all purpose flour
2 teaspoons baking powder
¼ teaspoon salt
Instructions
Preheat the oven to 350 degrees Fahrenheit. Coat muffin pans with non-stick spray, or use paper liners.
Cut the cranberries in half and toss with 1-2 Tablespoons of sugar and set them aside. If you place the cranberries whole into the muffins, they will be very, very tart.
In a standing mixer with a paddle attachment, or using a hand mixer, cream the butter and sugar until light and fluffy.
Add the orange juice, orange zest, eggs and vanilla. Mix to combine, scraping down the sides of the bowl a few times with a rubber spatula.
In a medium bowl, whisk the flour, baking powder and salt together. Add the dry ingredients to the batter and mix to combine, just until the flour is mostly incorporated. Do not over mix.
Add the cranberries to the batter and mix to combine with a spatula.
Divide the batter evenly among the prepared muffin tins. Bake in the preheated oven for 20-25 min.
Notes
You can also use frozen cranberries instead of fresh. You don't have to thaw the berries, but I would still halve them and toss with sugar. Instead of using fresh cranberries, you can also use dry cranberries. If cranberries aren't available, you can also add some dark chocolate, chopped dry apricots or walnuts instead.