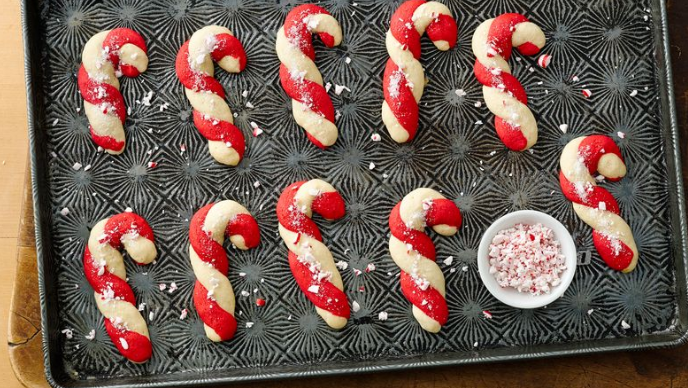 How about making these candy cane cookies over the Holiday season with the children .. it gives them some thing to do and to make for everyone to enjoy .. I know by Boxing day my Grandchildren often want to bake some cookies so that everyone can enjoy them with that mug of hot chocolate
Seeing that today is National Candy Cane Day I thought why not share this amazing recipe with you too
This great cookie recipe is brought to you by bettycrocker.com website , thanks for sharing this recipe with us
Here below is the ingredients you will need to make these cookies from the website
Hooked on traditional holiday baking? These candy cane twists are Christmas classics.
Ingredients
1 cup sugar
1 cup butter or margarine, softened
1/2 cup milk
1 teaspoon vanilla
1 teaspoon peppermint extract
1 egg
3 1/2 cups Gold Medal™ all-purpose flour
1 teaspoon baking powder
1/4 teaspoon salt
1/2 teaspoon red food color
2 tablespoons finely crushed peppermint candies
2 tablespoons sugar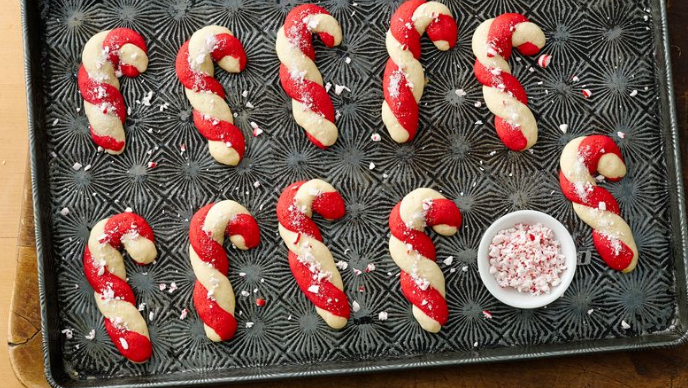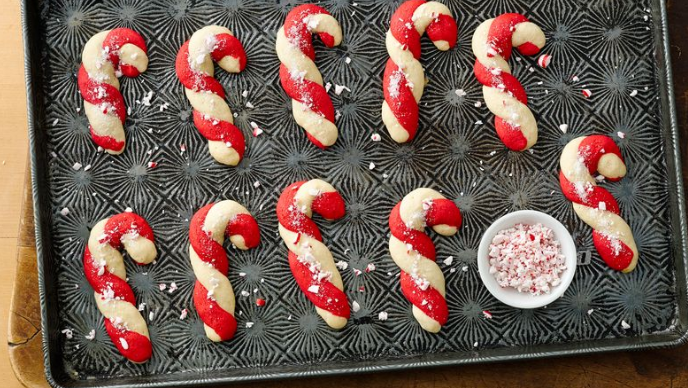 To get the recipe :http://www.bettycrocker.com/recipes/candy-cane-cookies/93832e29-3b4f-4977-ae5a-9820053b254c
NATIONAL CANDY CANE DAY
National Candy Cane Day is observed across the United States each year on December 26.
In 1844, a recipe for a straight peppermint candy stick, which was white with with colored stripes, was published. However there are stories that tell of all white candy sticks in much earlier times.  There are folklore tales of the origin of the candy cane yet there is no documented proof of it's true beginning.   It has been mentioned in literature since 1866 and was first known to be mentioned in association with Christmas in 1874.   As early as 1882, candy canes have been hung on Christmas trees.
Enjoy these fun candy cane facts:
The average candy can is 5 inches tall.
While most candy canes are not sugar or calorie free, they do not have any fat or choleserol.
Striped red and white candy canes were first introduced in 1900.
The first machine to make candy canes was invented in 1921 by Brasher O. Westerfield. Until then, they were made by hand.
Traditionally the flavor for candy canes is peppermint, but there are a variety of flavors.
Alain Roby, Geneva pastry chef, holds the Guinness World Record for the longest candy cane, measuring 51 feet long.
Article Source :http://www.nationaldaycalendar.com/national-candy-cane-day-december-26/