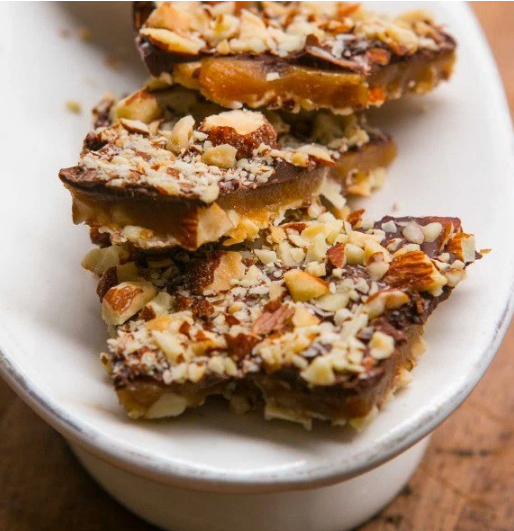 With it being National Buttercrunch Day I just had to find you an amazing recipe for you to try out and I think I have hit jack pot with this chocolate almond butter crunch toffee recipe .. it just looks so delicious that I just have to make some for myself too
This great recipe is brought to you by davidlebovitz.com , thanks for sharing it with us
Here below is a list of the ingredients you will need from the website
Chocolate-Almond Buttercrunch Toffee
About 2 pounds (900g)
Adapted from The Perfect Scoop
Be sure to read the recipe completely through before starting so you know all the steps. And keep an eye on the toffee while it's cooking. The temperature will climb fairly rapidly as it gets close to reaching the right temperature.
2 cups (8 ounces, 225g) toasted almonds or hazelnuts, chopped between 'fine' and 'coarse'
2 tablespoons water
1/2 cup (1 stick, 115g) salted or unsalted butter, cut into pieces
a big pinch of salt
1 cup (200g) granulated sugar
1/4 cup (45g) packed light brown sugar
1/4 teaspoon baking soda
1 teaspoon vanilla extract
5 ounces (140g) bittersweet or semisweet chocolate, chopped, or 1 cup chocolate chips
optional: Roasted cocoa nibs and fleur de sel or flaky sea salt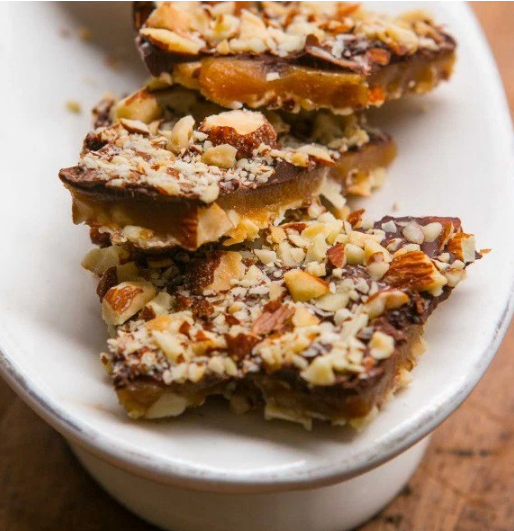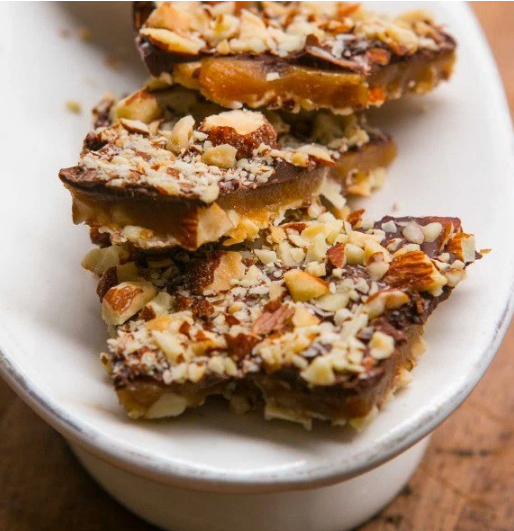 To get the recipe :http://www.davidlebovitz.com/chocolatealmond/
Buttercrunch Day
The texture of a sweet treat can sometimes be almost as satisfying as the taste of the item itself. On Buttercrunch Day, both the crunchy consistency and the dark toffee taste of buttercrunch deserve to be celebrated!
It's not known who came up with the idea for this great day, but it was certainly a good one! For buttercrunch is a type of candy (sweet) made out of butter and brown sugar. It is then boiled to the hard ball stage before some vanilla and baking soda are quickly added to it. This cooking process creates that famous crunchy texture that is impossible to resist!
The flavour is great on its own, but is often enhanced with a topping of dark chocolate. It is also commonly rolled or sprinkled with sliced almonds, giving it another layer of textured deliciousness.
Whether it be in the form of buttercrunch ice cream, sprinkled on top of a cheesecake, or simply enjoyed as a chunk of buttercrunch almond toffee, it's good stuff! Happy Buttercrunch Day!
Article Source :https://www.daysoftheyear.com/days/buttercrunch-day/