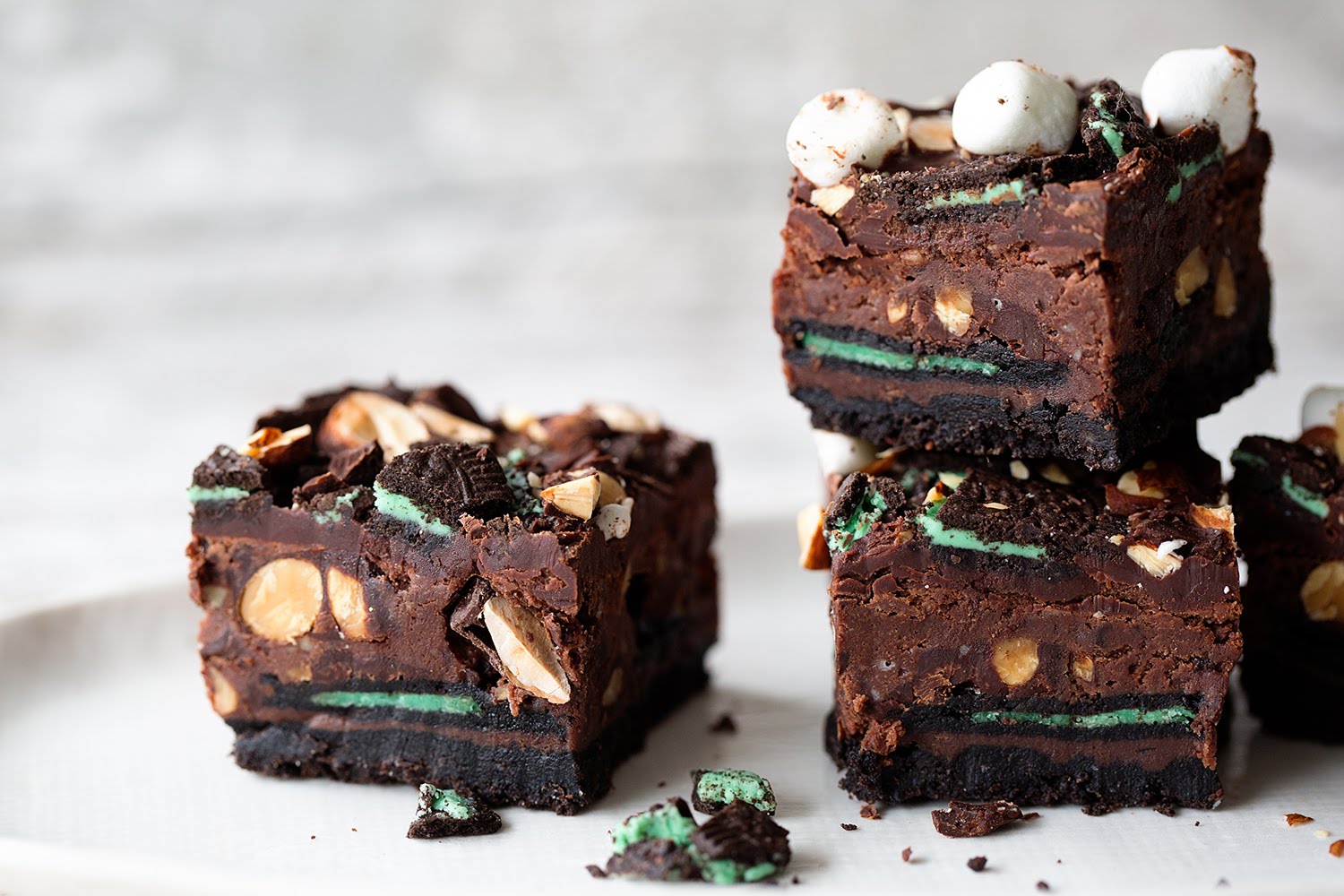 Well what can I say about these chocolate cheesecake mint Oreo bars that they don't say for themselves , they look so good that I just could not just pass this recipe by with out sharing it with you
I am a fan of Oreo's so I was over the moon when I found this recipe .. so please why not check it out and make some for your family or friends to enjoy
This great recipe has been brought to you by Kin Community on YouTube , thanks for sharing this recipe with us
Here below is the recipe and the video tutorial to watch both brought to you by the YouTube channel
__INGREDIENTS__
Crust:
2 ½ cups (9.5 oz.) finely crushed Oreo cookies, about 24 cookies
7 (3.5 oz.) tablespoons unsalted butter, melted
Cheesecake:
1 8 oz. cream cheese bar
¾ cup (3 oz.) bittersweet chocolate, melted and cooled
½ cup (3.5 oz.) granulated sugar
2 tablespoons unsweetened cocoa powder
1 large egg
2 teaspoons vanilla extract
5 oz. chocolate covered almonds
16 whole Oreo Mint cookies
Glaze:
½ (4 oz.) cup butter
2 cups (10 oz.) bittersweet chocolate, chopped
Topping
10 Oreo Mint, chopped
3 oz. chocolate covered almonds, chopped
¾ cup (1 oz.) mini marshmallows


__DIRECTIONS__
Preparation: Heat oven to 350F. Line 8×8 pan with parchment paper. Set aside.
To make crust: In a large bowl combine cookie crumbs and melted butter until mixture starts to clump together. Transfer mixture to prepared pan and press evenly onto bottom. Bake until the crust is fragrant, about 10-12 minutes. Set aside to cool.
To make cheesecake: In a large bowl, using a hand beater or stand mixer, beat together cream cheese, melted chocolate, sugar and unsweetened cocoa powder until smooth and fluffy about 2-4 minutes. Add egg and vanilla extract, beat just until blended. Pour one third of filling onto crust. Place whole Oreo Mint cookies down onto filling. Using a sturdy spatula fold in chocolate covered almonds into remaining filling. Pour filling into pan and smooth out top. Bake 20-25 minutes until center is just barely set. Remove from oven and transfer to a wire rack to cool completely.
To make glaze: In a medium-size saucepan, add chocolate and melt over low heat. Add chopped chocolate to pan. Heat and stir continuously until mixture is smooth and well combined (make sure to scrape the bottom and sides so chocolate does not scorch).
Assembly: Pour glaze onto cooled cheesecake and sprinkle with toppings. Transfer to refrigerator for at least four hours or overnight to set. To serve: Remove from refrigerator and set on counter for about 25-30 minutes, before slicing and serving.