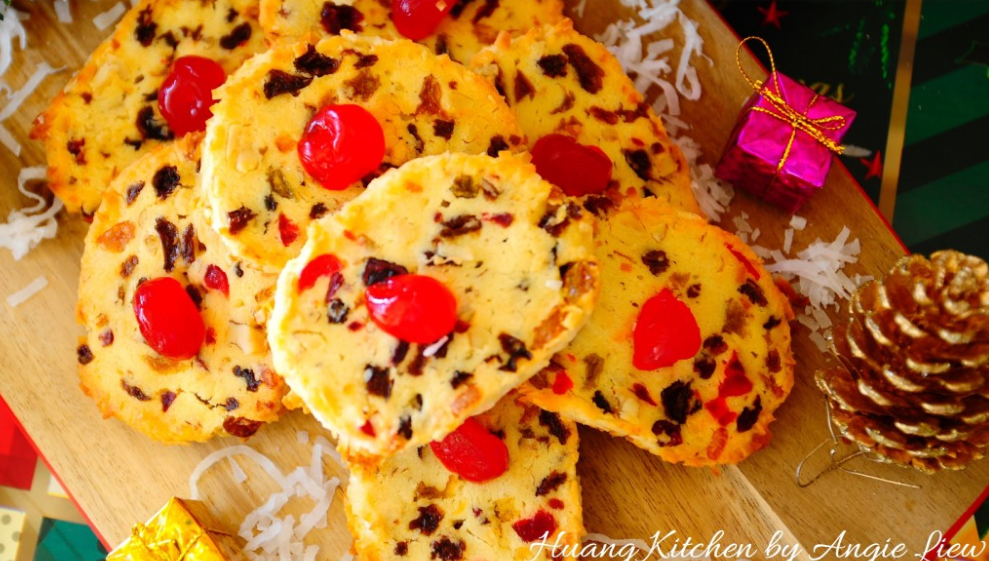 Welcome to 24 days Of Christmas Baking .. a count down to baking wonderful recipes for the family and friends to enjoy 
I love Christmas baking so I wanted to find you some recipes that I think you may love and share one with you each day ..
 Day 21

 ….

Christmas Fruitcake Cookies 

What amazing looking cookies to make so great if you are looking for that fruitcake recipe but don't want to make a full cake, I really love this cookie idea to have a fruitcake that is so good to have a Christmas but to have it in a cookie sound so delicious doesn't it ?

I was so happy when I found this recipe for the 24 days of Christmas baking collection .. so happy baking

This great recipe has been brought to you by Huang Kitchen on YouTube and on the website huangkitchen.com  ,thanks for sharing this recipe with us

Here below is the recipe and the video tutorial to watch both recipe making the sweet mincemeat and making the mince pies from the YouTube channel
These Christmas Fruitcake Cookies are very similar to the traditional Christmas fruitcake, only difference is they are in cookie form and take you a lot less time to bake. So, you can actually simplify Christmas baking by making a triple batch of these jewel-liked cookies ahead of Christmas and store them in airtight containers as these cookies just get better the longer you keep them. Just perfect for the last minute bakers as they can carry on the tradition of making delicious Christmas Fruitcake by making these delicious Christmas Fruitcake Cookies instead.
1 

cup 

butter 

227g, softened

1/2 

cup 

walnuts 

55g, toasted and coarsely chopped

1 1/2 

cups 

fruitcake mix 

250g, coarsely chopped

16 

red maraschino cherries 

halves, for garnish

2 1/2 

cups 

all-purpose flour 

1/4 cup (fruitcake mix + walnuts), 2 1/4 cup( cookie dough)