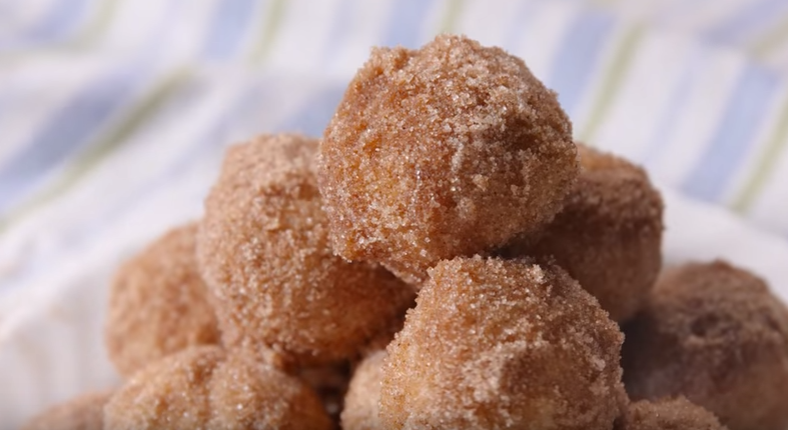 What a great recipe is this churro mini muffins, they would be so good to make either for a party or to share with family or friends over mugs of hot chocolate either way these mini muffins look so good
A really easy recipe to make as you will see from the video tutorial below .. happy baking
This great recipe has been brought to you by Delish on YouTube , thanks for sharing this recipe with us
Here below is the recipe and the video tutorial both from the YouTube channel
1. Preheat oven to 350 degrees F. Grease a 24-cup mini muffin tin with cooking spray.
2. In a large bowl, whisk together flour, baking powder and salt. Add brown sugar, 1/2 cup sugar and 1 teaspoon of cinnamon. Whisk to combine. Add egg, milk and 8 tablespoons butter and stir until the mixture is smoother.
3. Scoop rounded tablespoons of batter into the greased muffin tin. Bake until a toothpick inserted into the center of the muffin comes about clean, about 12 minutes. Let muffins cool slightly in pan for about 5 minutes then carefully remove them from the pan.
4. Mix the remaining 1/2 cup sugar and 2 tablespoons of cinnamon in a shallow bowl. Dunk each muffin in the remaining melted butter then toss in cinnamon-sugar mixture.
INGREDIENTS
3 c. all-purpose flour
2 tsp. baking powder
1/2 tsp. salt
1 c. sugar, divided
1/2 c. brown sugar
12 tbsp. butter, melted (divided)
2 tbsp. plus 1 tsp. cinnamon
2 eggs, lightly beaten
1 c. milk