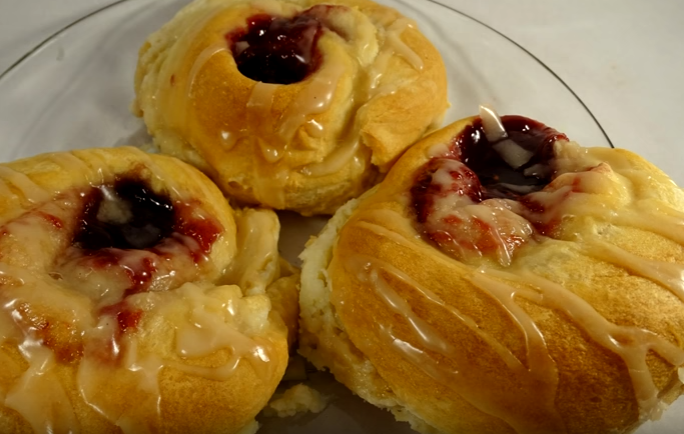 I love to make dessert treat of any kind for my family and friends as I love to see them enjoy what I have made so I wanted to find a few recipes that are easy to make and to follow as they are video tutorial recipes so how about making these Crescent Roll Cheese Danish , so delicious I think
Video recipe tutorials are so fun to watch and I like them as you get to see what the end produce looks like and it makes we want to go and bake so that is a good thing for my family who love my creations
So I really hope you give this recipe a go too
This great recipe has been brought to you by yoyomax12 – the diet free zone on YouTube , thanks for sharing it with us
Here below is the recipe and the video tutorial from YouTube
2 cans refrigerated crescent rolls
1-8oz package cream cheese (room temp)
1/2 cup white sugar
1 tbsp lemon juice
1/4 cup brown sugar
1/4 cup jam or jelly
Cream together the cheese, white sugar and lemon juice, set aside.
Open crescent rolls and make 8 rectangles by pinching together two of the triangle pieces. Take the time to really pinch the seams well.
Place a dollop of cream cheese in the center of each rectangle, spread slightly (stay away from edges)
Sprinkle with additional brown sugar if desired
Roll up from the long side and then stretch out log to about 10 inches in length.
Keeping the seam on the inside, make a coil with the log shape, pinching to seal together.
Make a hollow shape on the top of the coil (roll) and fill with 1-2 tsp of jam or jelly.
Bake at 350 F for about 20 minutes until deep golden brown.
Drizzle with glaze while still hot, serve warm.
Glaze:
1/2 cup powdered sugar
1 tsp vanilla extract
1-2 tsp milk (enough to get a drizzling consistently)
Stir together and drizzle over rolls.