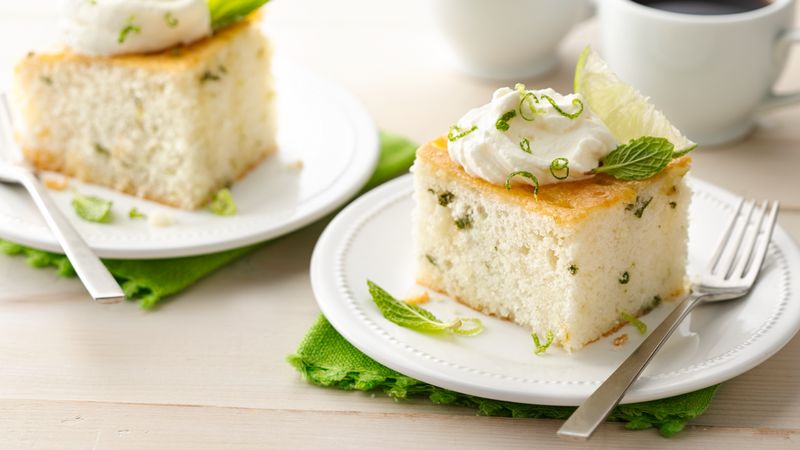 Dessert and cake are so great to make for any occasion so I was so pleased when I found a selection of them that have been inspired by our favourite drinks just like this one for a Mojito Cake, that looks so inviting
 Why not have a dessert that is a name of a drink it give it that touch of fun and for that reason I am sure your family and friends will love them ♥
Drinks We Turned into Desserts….the flavors of sweet drinks (both kid-friendly and grown-ups-only), translated into irresistible desserts!
This  great recipe has been brought to you by bettycrocker.com website, thanks for sharing it with us
Here below is a list of the ingredients you will need to make this cake from the website
Slices of tender white cake feature pretty flecks of fresh mint. The rum glaze and whipped cream garnish are great!
Ingredients
Cake
1 box Betty Crocker™ SuperMoist™ white cake mix
1 cup unflavored carbonated water
1/3 cup vegetable oil
1/4 cup rum or 1 teaspoon rum extract plus 1/4 cup water
3 tablespoons chopped fresh mint leaves
2 teaspoons grated lime peel
3 egg whites
Glaze
1/2 cup butter or margarine
1/4 cup water
1 cup granulated sugar
1/2 cup rum or 2 teaspoons rum extract plus 1/2 cup water
Garnish
1 cup whipping cream
2 tablespoons powdered sugar
15 fresh mint leaves, if desired
Shredded lime peel, if desired