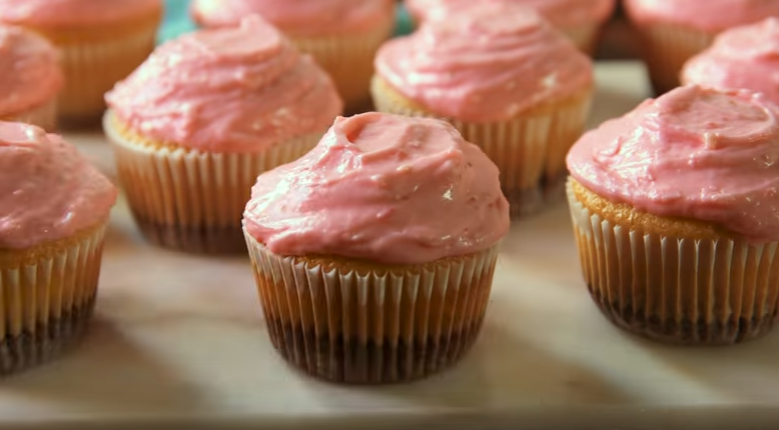 I love looking for recipes for you all and there is nothing that I like better when I am searching for recipes is to find those ones that have a video tutorial with them so I have found you a selection of them like this Neopolitan Cupcakes .. so yummy I know you will love making this recipe
Great to make for that special treat
I love recipes with a video tutorial as they are much more easier to follow the recipe when you have something visual and the recipe too if possible so I really hope you enjoy making this recipe
This  particular great recipe has been brought to you by Delish on YopuTube  , thanks for sharing it with us
Here below the recipe and video tutorial from the YouTube channel
The classic ice cream flavor combination in cupcake form!
DIRECTIONS
1. Preheat oven to 350°. Line two muffin pans with cupcake liners.
2. Spoon about 2 tablespoons of brownie batter into the bottom of each cup. Fill the rest of the cup with vanilla batter. Bake until a toothpick inserted into the middle of a cupcakes comes out clean, about 20 minutes. Let cupcakes cool completely.
3. Make frosting: Add strawberries to a food processor and blend until the strawberries are mashed and almost completely puréed. In a large bowl, combine cream cheese and butter and beat with a hand mixer until smooth. Gradually add powdered sugar and beat until fluffy. Add vanilla and strawberry puree and mix until evenly incorporated. Stir in food coloring, if desired, for a pinker color.
4. Frost cupcakes with strawberry frosting.
INGREDIENTS
1 box white cake mix, prepared according to package instructions
1 box brownie mix, prepared according to package instructions
STRAWBERRY BUTTERCREAM
8 oz. cream cheese, softened to room temperature
1/4 c. unsalted butter, softened to room temperature
3 1/2 c. powdered sugar
1/2 tsp. vanilla extract
1/2 c. chopped strawberries
red food coloring (optional)