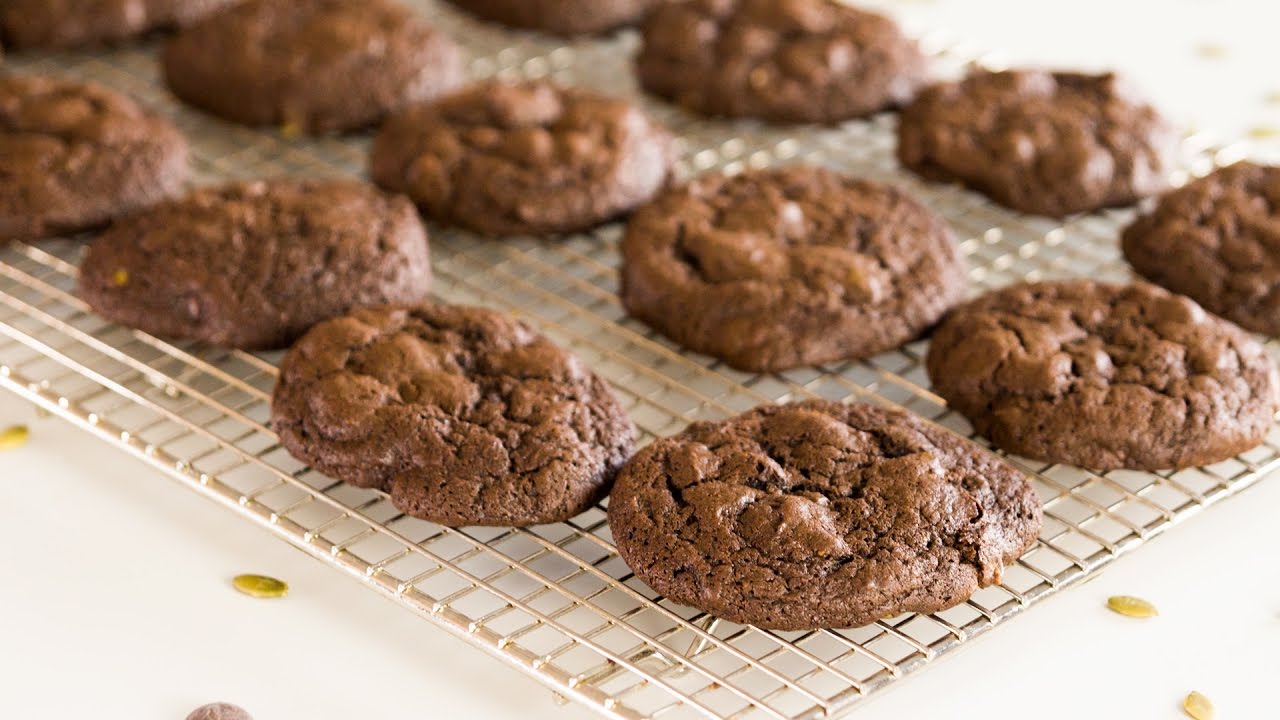 I love the look of these cookies they would be so good to make over a weekend or seeing as the holidays are soon with us how about making to have then with that hot chocolate with family or friends .. Yummy
If you are a chocolate cookie fan thee certainly are the cookies for you
These great cookies are brought to you by The Gray Boxwood on YouTube , thanks for sharing this recipe with us
Here below is the recipe and the video tutorial from YouTube
INGREDIENTS
– 1 cup (2 sticks) unsalted butter, room temperature
– 1 1/2 cups dark brown sugar
– 3/4 cup white granulated sugar
– 2 eggs
– 1 egg yolk
– 2 teaspoons vanilla
– 4 ounces 100% dark chocolate
– 3/4 cup Dutch processed cocoa
– 2 cups flour
– 1 1/2 teaspoons baking soda
– 1 teaspoon salt
– 3/4 teaspoon cinnamon
– 3/4 teaspoon chipotle pepper powder
– 3/4 teaspoon cayenne pepper powder
– 3/4 cup pepitas (pumpkin seeds)
– 2 cups bittersweet chocolate chips
INSTRUCTIONS
Preheat oven to 350 degrees. Place pepitas on a baking sheet in an even layer and toast in oven 10-12 minutes until lightly golden. Set aside to cool.
In a microwave safe bowl, break up chocolate and heat in 30 second increments, stirring until melted. Set aside to cool slightly.
In the bowl of a stand mixer, cream butter and sugars until light and fluffy.
Add eggs and yolk, one by one, mixing after each until incorporated.
Stir in vanilla and prepared melted chocolate.
Using a colander, sift the cocoa, flour, salt and spices. Mix together until no dry streaks remain.
Stir in pumpkin seeds and chocolate chips.
Using a 2-ounce cookie scoop, make cookies and place on parchment-lined baking sheet.
Bake in preheated oven for12-15 minutes until the edges are just set.
Remove from oven and let cool on pan for 5 minutes. Remove and finish cooling on racks.