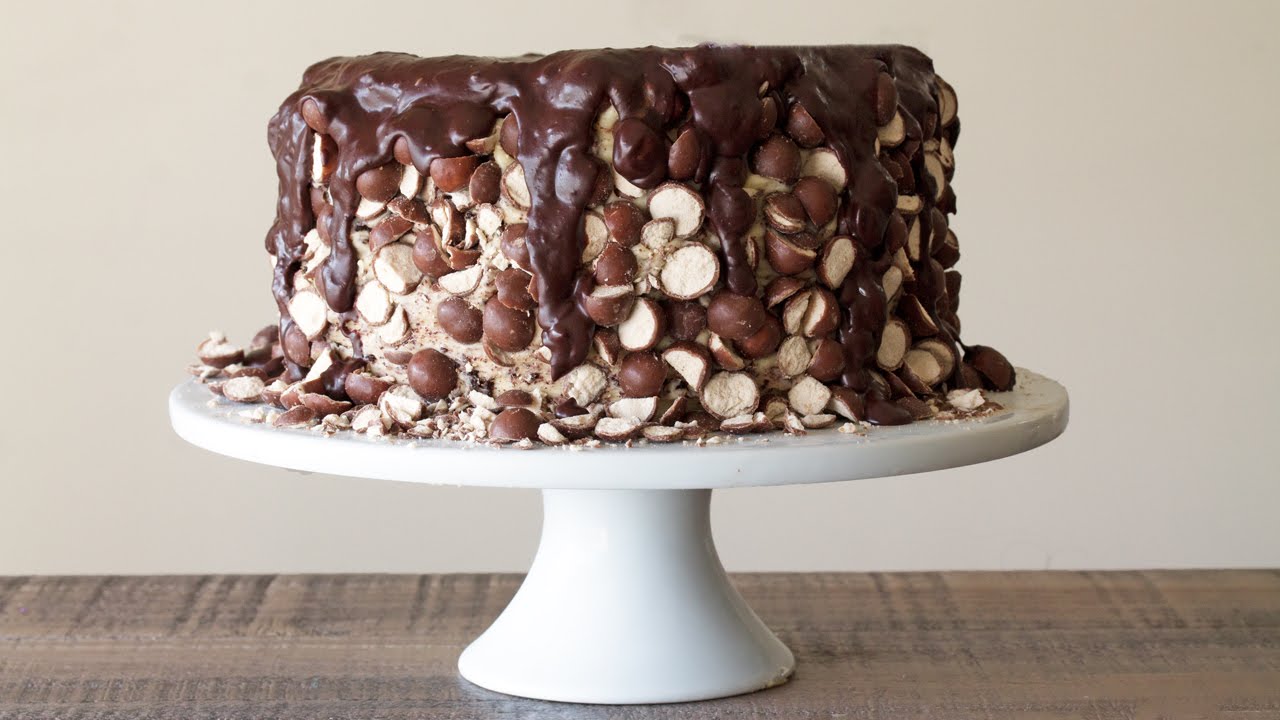 What an amazing cake to make for that special occasion is this triple malt chocolate cake that looks so delicious that I could just eat a slice right now
As soon as I came across this recipe I was hooked it sounds so fantastic and looks even better .. a great cake to impress your guests .. I think this cake will be great to make for any occasion .. happy baking
This great recipe is brought to you by The Stay At Home Chef on YouTube , thanks for sharing this recipe with us
Here below is the recipe and the video tutorial both brought to you by the YouTube channel
Triple Malt Chocolate Cake
In addition to the ingredients below, you will also need a little unsalted butter and flour for buttering and dusting the cake pans.
Ingredients
Malt Cake:
3 cups all-purpose flour
3 cups granulated sugar
1½ cups unsweetened cocoa powder
1 cup malted milk powder
1 tablespoon baking soda
1½ teaspoons baking powder
1½ teaspoons salt
4 eggs
1½ cups buttermilk
1½ cups warm water
½ cup vegetable oil
2 teaspoons vanilla extract
Malt Frosting:
1 cup butter, softened
8 oz cream cheese, softened
1½ cups malted milk powder
1 tablespoon vanilla
6 cups powdered sugar (approximate)
4 cups malt balls, crushed
Chocolate Ganache:
½ cup heavy cream
4 oz semi-sweet chocolate chips
Instructions
1. To make the cake, preheat oven to 350 degrees. Butter three 9-inch cake rounds. Dust with flour (or cocoa powder) and tap out the excess.
2. Mix together flour, sugar, cocoa, baking soda, baking powder, malt powder, and salt in a stand mixer using a low speed until combined. Add eggs, buttermilk, warm water, oil, and vanilla. Beat on a medium speed until smooth. This should take just a couple of minutes.
3. Divide batter among the three pans. Bake for 30-35 minutes until the cake meets the toothpick test (stick a toothpick in and it comes out clean). Cool on wire racks for 15 minutes and then turn out the cakes onto the racks and allow to cool completely.
4. While the cakes are cooling, make your frosting. In a medium-sized mixing bowl, cream together the butter and cream cheese with a hand mixer (or you can use a stand mixer). Add in the malted milk powder and vanilla and mix until combined. Add in the powdered sugar 1 cup at a time until desired consistency achieved. It should take approximately 6 cups. It should be spreadable, but not runny. It needs to be able to hold to the cake.
5. Assemble the cake by frosting in between the 3 layers and the sides of the cake. Place 1 cup crushed malt balls on the outside edges of the cake. Just take a handful and gently smoosh it into the frosting.
6. Make chocolate ganache: In a small saucepan, bring the heavy cream to a boil, stirring constantly.
7. Once it boils, remove from heat and add in the chocolate chips, stirring until smooth. Pour over the cake, letting it drip down the sides. Cool to harden.