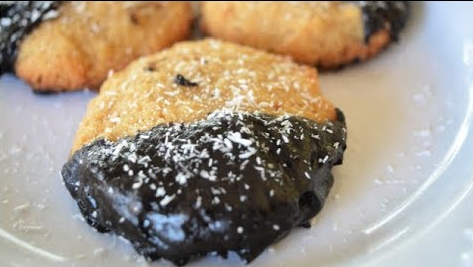 Not only for you, but you will want to make this peanut-buttery shortbread cookies for your whole family and loved ones. Just like the original recipe for shortbread cookies, this Keto version requires few ingredients and a minimum of baking time. Instead of regular all-purpose flour, I found that coconut flour works perfectly as a substitute.
Just like the original recipe, these cookies include chocolate coating, but with 99% of cocoa chocolate so you will make them as Kato as possible. Instead of sugar, I have used erythritol which is basically sugar that is allowed in the Keto Diet.
Peanut butter is a replacement for regular butter, so you will feel peanut buttery aroma that goes really well with a chocolate coating at the end. Just match made in heaven.
Also, they are perfect for your morning cup of coffee, to have as a snack in the middle of the day or just as a dessert with a strong cup of tea.
Ingredients for Keto Shortbread Cookies 
2/3 cup + 1 Tbsp Coconut Flour
2 ½  tablespoons erythritol
½  teaspoon vanilla essence
1 tablespoon Peanut Butter
1/3 Cup extra virgin olive oil/ coconut oil
2 droppers full of Stevia (to taste)
1 tablespoon Gelatine
99% Cocoa Chocolate (any chocolate you have)
2 ½  teaspoon Erythritol
2 tablespoons of heavy cream
How to Make Keto Shortbread Cookies
Preheat your oven to 350 F or 180 C.
In a food processor place in coconut flour, erythritol, vanilla extract, peanut butter, and olive oil.
In a bowl on side place in the gelatin and water to set. Add in set gelatin in food processor and pulse until smooth and combined. Add in stevia to taste and blitz again.
With the help of an ice cream scoop, scoop out from the cookie batter and place the cookies in a cookie sheet, lined with baking paper. Form cookies with the help of your hands and bake them for about 10-12 minutes.
In a bowl place in dark chocolate, erythritol and heavy cream and microwave it until fully melted.
Coat cooled cookies with chocolate mixture and sprinkle some coconut flakes on top of each cookie.
To see the original recipe that inspired this one, check out the recipe for Keto Shortbread Cookies found at Sonal's Food.