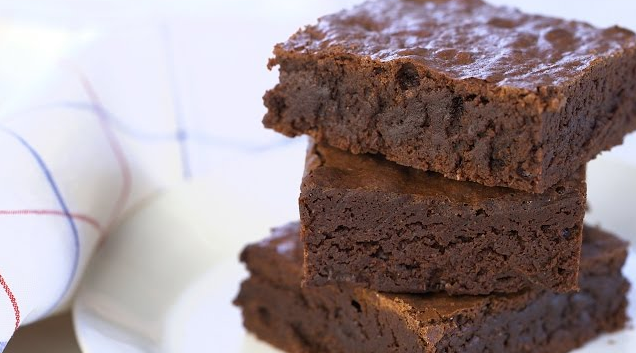 You've probably tasted a lot of brownie recipes, and some of them were not enough chewy and fudgy to satisfy your taste buds. This recipe for chewy and fudgy rich chocolate brownies are the best one you will ever taste!
Soft in the middle and rich in the outside this is a foolproof recipe, that if you follow my steps there is no way you can go wrong.
With good quality of ingredients, everything in the kitchen comes out perfect. Eggs in this recipe bring so much flavor, richness, and chewiness to the brownies. Also, combining two types of sugar brings the great exterior (crackly crust on top) on the brownies, sweetness and from the brown sugar also it has a little bit of caramel taste.
For all "brownies in the box"lovers out there, this is a perfect recipe that comes together in just 5 minutes. Everything that this recipe asks for is a little bit of melting, whisking and stirring, but trust me when I say it is worth it, the final result is YUM – chocolaty chewy and fudgy brownies with crackly crust on top.
Ingredients for Chewy and Fudgy Brownies
7 tablespoons butter, at room temperature
¾  cup plus 2 tablespoons all-purpose flour
¼  teaspoon baking powder
½  teaspoon kosher salt
1 1/3 cups chocolate, finely chopped
3 tablespoons sunflower oil
1 cup granulated sugar
1 cup packed light brown sugar
3 large eggs, room temperature
How to Make Chewy and Fudgy Brownies
Preheat your oven to 350 F or 180 C.
Grease well 9-inch square baking pan.
In a large bowl combine together the dry ingredients – flour, baking powder, and salt.
In a bowl over a saucepan over simmering water melt together butter and chocolate. Set aside and let it cool slightly.
Add in vegetable oil, granulated sugar and light brown sugar in the melted chocolate and mix with a wire whisk. Add in the eggs and mix well. Place in the dry ingredients and combine until fully incorporated and well mixed.
Transfer the brownie batter in the already prepared square pan, smooth it evenly and bake for about 35-40 minutes.
To see the original recipe that inspired this one, check out the recipe for Chewy and Fudgy Brownies found at Everyday Food.