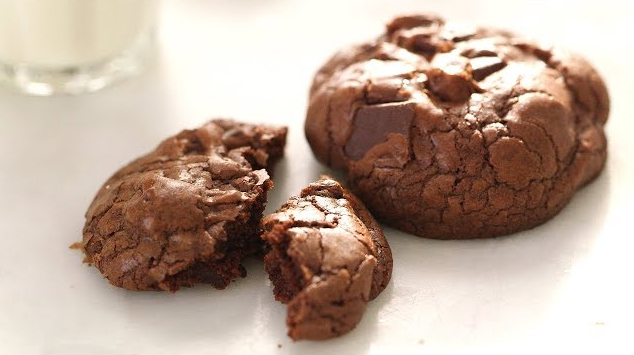 I would ask all of you how many of you love brownies, but today my bigger question is: How many of you love chocolate chunk cookies with almost like brownie texture?
Yes, you read that right. Today's recipe is loaded with chocolate, minimum of flour and a ton of love.
Trust me, nothing screams chocolate, like this double chocolate chunk cookies. All you need is a bowl, spatula, few simple ingredients, and cookie sheet. Everything is so simple and easy to prepare.
Can you imagine having decadent chocolate cookies that are ready in less than 20 minutes? Once you will make this recipe you will end up making it over and over again.
They are perfect for any occasion, so get ready and dive in, in the kitchen to cook up a storm with this simple but delicious recipe.
Ingredients for Chocolate Chunk Cookies
8 oz. semisweet chocolate, chopped into chunks
4 tablespoons butter
2/3 cup all-purpose flour
½  teaspoon baking powder
½  teaspoon salt
2 large eggs, at room temperature
¾  cup packed light brown sugar
1 teaspoon vanilla extract
12 oz. semisweet chocolate chunks
How to Make Chocolate Chunk Cookies
Preheat your oven to 350 F or 180 C.
In a large bowl combine together the dry ingredients – flour, baking powder, and salt.
In a bowl over a saucepan over simmering water melt 8 oz. of chocolate together with 4 tbsp. of butter. Let it cool slightly.
In a different bowl of an electric mixer place in eggs, light brown sugar and vanilla extract. Beat until well combined. Add in your dry ingredients and add in melted chocolate and butter mixture. Mix with a spatula and add in semisweet chocolate chunks. Mix until combined and well incorporated.
With a mini ice-cream scoop, scoop out of the batter and transfer it to a cookie sheet lined with baking paper. Bake them for about 10-12 minutes or until just set.
To see the original recipe that inspired this one, check out the recipe for Chocolate Chunk Cookies found at Everyday Food.