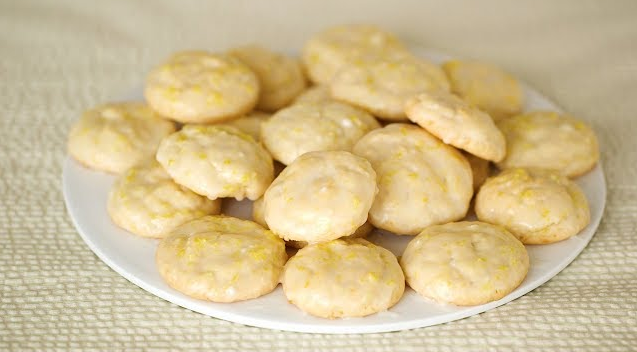 When life will give you lemons, make this delicious lemon glazed cookies!
For everyone who wants to have dessert at least once in a day, these lemon glazed cookies are a real winner.
Let's be honest, we all need a recipe on hand when it comes to homemade cookies, and this one is the perfect combination of sweet and sour and represents perfect cookies for your next party.
When you will bite into these cookies you will feel the fresh zing of the lemon zest and lemon juice and the richness of the butter itself.
Easy to make, with simple and everyday ingredients, these cookies are ready in less than 30 minutes. When the glaze will thicken you will have an almost new variety of cookies which is also a plus to go right now straight in the kitchen and whip up the batter.
Ingredients for Glazed Lemon Cookies
For the cookies:
2 cups all-purpose flour
1 tablespoon freshly grated zest of lemon
½ teaspoon of salt
½ teaspoon baking soda
1 cup  of room temperature butter
1 cup of granulated sugar
2 tablespoon of freshly squeezed lemon juice
1 egg, at room temperature
1 teaspoon of vanilla extract
For lemon glaze:
2 cups confectioner sugar
1/3 cup freshly squeezed lemon juice
2 tablespoon lemon zest
How to Make Glazed Lemon Cookies
Preheat your oven to 350 F or 180 C.
First, in a large mixing bowl combine the dry ingredients for the cookies – flour, freshly grated zest of a lemon, salt, and baking soda. Whisk with a wire whisk and set aside.
In a bowl of an electric mixer beat in the butter and granulated sugar together. Add in 1 egg at room temperature and mix until combined. Add in freshly squeezed lemon juice and vanilla extract and mix. In two or three times add in the dry ingredients mixing well between each addition. Mix until well incorporated and cookie dough forms.
Using mini ice-cream scoop, scoop out from the batter and place the cookies in cookie sheets already lined with baking paper. Bake them for about 15 to 20 minutes or until golden and brown.
Let them cool on a cooling wrack and meanwhile prepare the lemon glaze.
In a bowl place in confectioner sugar with lemon juice and lemon zest and whisk with wire whisk until it drips smoothly in the bowl. Drizzle already cooled cookies and serve them immediately.
To see the original recipe that inspired this one, check out the recipe for Glazed Lemon Cookies found at Everyday Food.