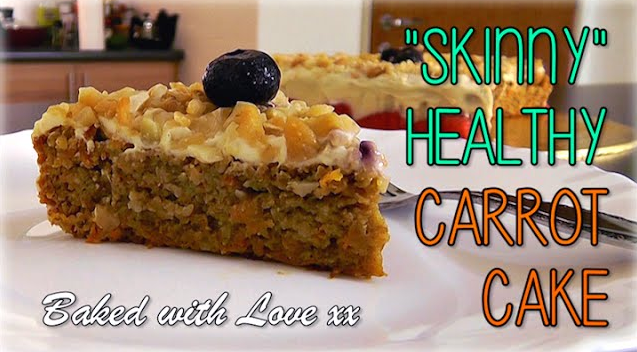 This recipe is based on the classic Carrot Cake recipe, but with just a little bit replacement of few ingredients to make it healthier and easy to dive in.
As you can notice there is no butter and sugar involved in this recipe, instead of butter I am using some extra virgin olive oil for fat in this recipe and also I am using honey or maple syrup to replace just regular granulated sugar.
The final result is so surprising that you are going to love this healthy version of the classic Carrot Cake recipe.
The final result is still dense with shredded carrots and ground nuts. It is simple and easy to prepare and what's most importantly everything happens in one bowl.
Coated with a lighter version of cream cheese frosting, for sure you will ask for another slice with no feeling guilty.
Delicious, moist and healthy cake for everyone who likes to eat more lighter food but can't resist a huge slice of Carrot cake.
Ingredients for Healthy Carrot Cake 
For Carrot Cake:
1 cup whole wheat and white flour mix
2 ½ teaspoons of baking powder
1 teaspoon cinnamon
2 eggs
½ cup honey or maple syrup
¼ cup extra virgin olive oil
½ cup unsweetened applesauce
1 teaspoon vanilla extract
1 ½ cups already peeled and grated carrots
½ cup ground nuts
For cream cheese frosting:
3 oz cream cheese, softened
½ cup plain yogurt
½ teaspoon vanilla extract
2 teaspoons stevia for extra sweetness
How to Make Healthy Carrot Cake 
Preheat your oven to 350 F or 180 C.
In a bowl of an electric mixer beat in the eggs with honey until triple in size. Add in olive oil, applesauce, vanilla extract, and mix until well combined.
In a separate bowl combine flour, baking powder and cinnamon together.
Add in the dry ingredients into the beaten egg mixture and stir with the help of a spatula. Add in grated carrots and ground nuts of your choice. Mix well and transfer the batter in already greased and lined with baking paper, cake pan and bake the carrot cake for about 30-35 minutes or until toothpick comes out clean.
Let the cake cools completely on a cooling rack.
In a bowl of an electric mixer beat in cream cheese with plain yogurt, vanilla, and stevia. Coat the carrot cake with cream cheese frosting. Serve immediately or chilled.
To see the original recipe that inspired this one, check out the recipe for Healthy Carrot Cake found at Joanna Soh Official.