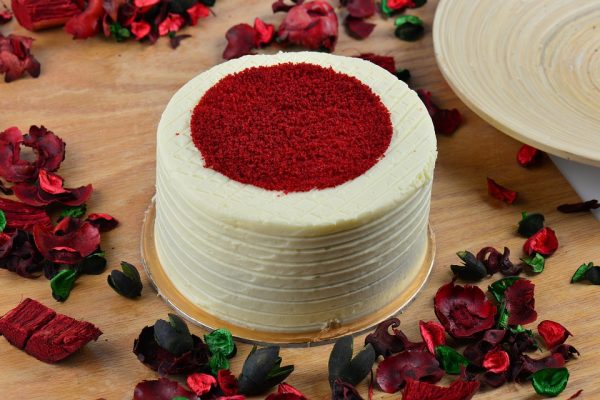 You have probably tried and made so many red velvet cakes but when you will bite into this one, it will stand out as your favorite, that's what I promise.
This recipe uses butter instead of vegetable oil, and that's what makes this cake so delicious and full of flavor. The soft and moist crumb is a result of a healthy dose of buttermilk in the recipe, and basically, that is the key for perfect Red Velvet Cake.
I prefer mixing the cocoa and red coloring together to form a paste because that way you will evenly spread the red color in the cake. If you have a problem mixing the cocoa with the food coloring, because of cocoa being lumpy mash it with the help of a fork.
At the end you will end up having delicious and moist Red Velvet cake coated with delicious vanilla cream cheese frosting, delicious with your cup of tea or coffee. The best thing is that you will still feel the hint of cocoa in the cake.
Ingredients for Savannah's Red Velvet Cake
For Red Velvet Cake:
2 tablespoons of cocoa powder
1 oz (27 g.) red food coloring
½ cup (115 g.) butter, softened
1 ½ cups (300 g.) granulated sugar
2 eggs
1 teaspoon salt
1 teaspoon vanilla extract
1 cup (240ml.) buttermilk
2 ½ cups all-purpose flour
1 ½  teaspoon baking soda
1 tablespoon white vinegar
For chocolate ganache:
8 oz cream cheese, softened
½ cup (115 g.) butter, softened
2 teaspoons vanilla extract
1 ½ pound icing sugar ( confectioner sugar)
How to Make Savannah's Red Velvet Cake 
Preheat your oven to 350 F or 175 C.
Grease well and dust with flour two 9 inch round cake pans.
In a small bowl mix together cocoa powder and red food coloring into a paste.
In a different bowl place in butter, sugar, and eggs. Mix with an electric mixer on high until well combined. Add in vanilla extract and cocoa and red food coloring mixture. Add in buttermilk and flour in two batches. In a small bowl mix vinegar and baking soda together and add it in the batter mixture. Divide the mixture into two already prepared round cake pans and bake them anywhere from 25 to 35 minutes. Let them cool completely on a cooling rack.
To make the cream cheese frosting, in a bowl of an electric mixer mix together soften cream cheese, butter, and vanilla extract. Add in confectioner sugar little by little so you will avoid dust forming and mix until smooth and all combined.
To set the whole cake place one of the cakes on a cake stand and frost a little bit of cream cheese frosting. Place in the second cooled cake on top and cover the whole cake with the cream cheese frosting. Serve immediately or chilled.
I have a scraper at home, so feel free to decorate your cake too if you have one. Just scrape cake on the side and top, or whatever design you want to make with it. And before putting the cream cheese frosting on the cakes, trim their top a bit and use the crumble to put in the center after frosting.
To see the original recipe that inspired this one, check out the recipe for Savannah's Red Velvet Cake found at Allrecipes.com.