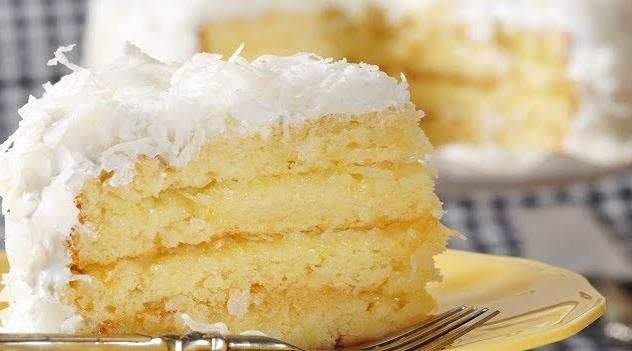 If you are a true coconut lover, this is your cake!
Spring and summer scream out for cakes like this – rich and moist, light and fluffy, perfect for this time of the year.
The rich and authentic aroma from the lemon curd makes this cake so moist so you will ask for the second piece, for sure.
Vanilla fluffy frosting is old-fashioned but very decadent and full of flavor that brings this cake on a higher level.
I promise you that when you will bring this cake to the table, you will hear just Uuu's and Aaaa's from the guests.
A real show stopper full with lemon and coconut flavor, a tropical combination that everyone will love.
What's great about this recipe is that you can make the sponge cakes and lemon curd in advance and just whip up some vanilla frosting and set the whole cake.
Great cake for a weekend filled with joyful baking.
Ingredients for Super Moist & Delicious Coconut Cake
For the Lemon curd:
3 large eggs, at room temperature
1/3 cup (80ml.) freshly squeezed lemon juice
1 tablespoon freshly grated lemon zest
¾ cup (150 g.) granulated sugar
4 tablespoon of butter
For the sponge cake:
1 cup ( 225g.) softened butter
1 1/3 cup (350g.) granulated sugar
4 large eggs, at room temperature
1 teaspoon vanilla extract
1 cup (240 g.) of buttermilk
2 ½ cups (325 g.) all purpose flour
2 teaspoon of baking powder
½ teaspoon of baking soda
½ teaspoon of salt
For the frosting:
3 egg whites, at room temperature
1 ½ (300 g.) of granulated sugar
1 tablespoon light corn syrup
¼ of a teaspoon cream of tartar
1 teaspoon vanilla extract
¼ cup ( 60 ml.) cold water
2 cups (150 g.) sweetened coconut
How to Make Super Moist & Delicious Coconut Cake 
First and foremost, prepare the lemon curd.
In a large bowl, placed over a saucepan of simmering water, place in eggs, lemon juice, lemon zest, and granulated sugar. Whisk constantly, until the mixture becomes thick (this can take about 10 minutes of constant whisking). Remove from heat and stir in the butter and whisk until fully incorporated and smooth mixture forms. It will thicken as it cools.
To prepare the sponge cakes in a bowl of an electric mixer place in the softened butter and beat it for about 30 seconds. Gradually add in the sugar and scrape down the sides of the bowl with the help of a spatula. Add in room temperature eggs, one at a time, mixing well between each addition. While the mixer is still running add in the vanilla extract.
In a bowl combine the dry ingredients: flour, baking powder, baking soda, and salt. Whisk until combined. Add half of the flour mixture while the mixer is running on low and then add in half of the buttermilk. Repeat the process one more time ( add remaining half of the dry ingredients and remaining half of the buttermilk). Whisk for 5 seconds on high and divide the batter into 2 well greased baking pans (9 x 2 inch) and bake the sponge cakes in preheated oven to 350 F or 180 C for about 27-30 minutes or until toothpick comes out clean.
Set aside, let them cool and divide each sponge cake in half, so you will end up with four layers of cake.
Finally, to prepare the vanilla frosting, in a bowl place in egg whites, sugar, corn syrup, cream of tartar, vanilla extract and water. Turn on your mixer and start mixing for a few seconds until everything is combined and place the bowl over a saucepan of simmering water. While the mixer is still running beat in the egg whites on high for about 7-8 minutes until well frosting develops. Remove from heat and continue to mix for another 2 minutes until stiff peaks forms.
To set the whole cake, place one layer of the sponge cake on a cake stand and coat it with third of the lemon curd, sprinkle some coconut and place another layer of sponge cake. Repeat the process two more times until you will end up with your last one, fourth layer of sponge cake. Cover the whole cake with vanilla frosting and sprinkle some coconut. Cut into slices and serve them in a decorative plate.
To see the original recipe that inspired this one, check out the recipe for Coconut Cake found at Joy of Baking.