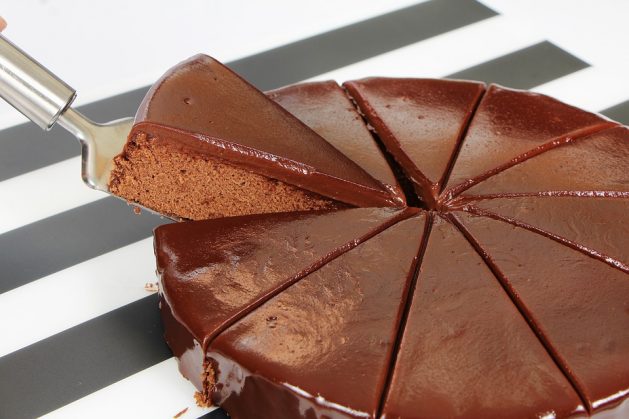 It's light, fudgy, chocolaty, and most importantly, very easy to be put together.
Everything happens in a single bowl, and there is no mixer and food processor requirement for this recipe. How great is that, right?
Soft and chewy in the middle, crunchy and full of flavor on the outside, this chocolate fudge cake is perfect for all of the chocolate lovers out there.
It also represents an easy recipe for chocolate cake with a minimum of flour added. It goes far and its rich aroma goes well with a hint of raspberries. If you are looking for fun in the kitchen, something easy to prepare and full of chocolate at the same time, this is the right thing for you.
When it comes out from the oven, it will be soft and pudding-like consistency, but when it chills, it will form a little crunchy skin on the outside and still be fudgy and yummy in the middle.
Raspberries as the finish in the plate brings so much freshness, but not only that, raspberries and chocolate are just perfect food pairing.
Ingredients for Easy Chocolate Fudge Cake
For the fudge cake:
225 g. dark chocolate
175 g. melted butter
225 g. sugar
6 egg yolks
4 tablespoons of flour
6 egg whites
For chocolate ganache:
225 g. dark chocolate
225 double cream
raspberries for garnishing
How to Make Chocolate Fudge Cake
In a large mixing bowl, place crush dark chocolate and pour in hot and melted butter. Let it sit for 2 minutes and whisk until all melted and combined. Add in sugar, egg yolks, and flour. Mix until combined and well incorporated. In another mixing bowl with an electric mixer beat in the egg whites until stiff peaks form. With a spatula, scoop out from the beaten egg whites and mix it in the chocolate mixture. Transfer all of the chocolate mixture in a prepared round cake pan, lined with baking paper, and bake in a pre-heated oven at 180 Celsius degrees for about 40 minutes.
Meanwhile, in a saucepan over medium heat, heat the double cream and place it on top of the chocolate in a bowl. Wait 2 minutes and stir until fully combined and melted. Set aside.
Let the chocolate cake cool completely and cover it with cooled chocolate ganache. Serve in a decorative plate and garnish with few raspberries.
To see the original recipe that inspired this one, check out the recipe for Chocolate Fudge Cake found at Twisted.