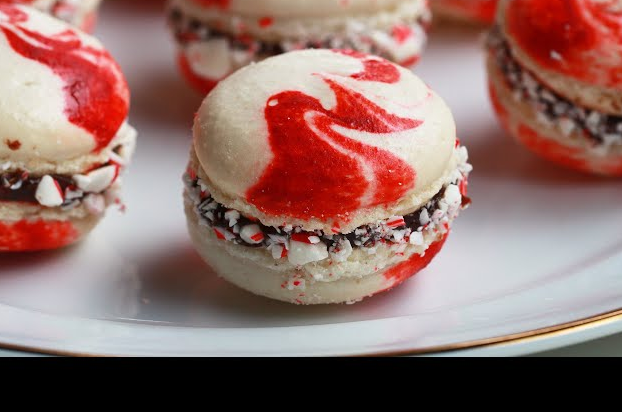 Just perfect for holidays or any other occasion, these chocolate and peppermint macarons are a real winner.
The perfect balance of the chocolate filling, foamy macaron, and delicious candy cane is a winning combination for everyone who has a sweet tooth. I know guys, a lot of you have a problem making French macarons in your kitchen, but trust me on this recipe. With foolproof techniques and tips, you will master the art of making them from scratch.
Firstly, you need to prepare the filling so you can give it a time to cool and transfer it in a piping bag. The other critical steps are mixing the batter, and the most important step of them all is letting them set before baking. If you skip these steps, you will end up having an unsuccessful macaron try!
Anyway, just follow the steps and be sure not to skip anything, I promise, you will enjoy this holiday-inspired French macaron with chocolate filling and delicious candy cane.
Ingredients for Peppermint Macarons 
1 cup chocolate chips
½ cup heavy cream
For macarons :
1 2/4 cup powdered sugar
1 cup almond flour
½ teaspoon salt
3 egg whites, room temperature
½ teaspoon salt
¼ cup of sugar
red food coloring
crushed candy cane for coating
How to Make Peppermint Macarons 
First, prepare the chocolate ganache. In a bowl place in chocolate chips and heavy cream. Microwave it for 30 seconds, mix well until fully melted, and set aside to cool.
In a food processor blitz together powdered sugar, almond flour, and salt. Strain into a sieve and set aside. In a bowl of an electric mixer beat in the egg whites with salt and sugar until stiff peaks form. Add in the dry ingredients and with the help of a spatula, combine until lava consistency forms.
In a pastry bag, insert two lines with red food coloring and add in the macaron batter. Form the macarons in an already prepared cookie sheet lined with parchment paper. Let them cool for 30 minutes until the surface on the macarons is dried. Bake in a preheated oven at 300 F or 150 C degrees for about 20 minutes.
Let them cool completely and decorate them with chocolate ganache. Cover each filled macaron with the other half and roll them in crushed candy canes.
Enjoy!
To see the original recipe that inspired this one, check out the recipe for Peppermint Macarons found at Tasty.