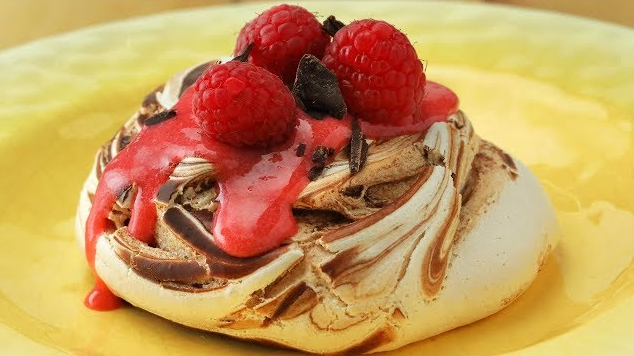 Pavlova – true Australian and New Zealand dessert that everyone goes nuts for.
This version is with chocolate and raspberry and lemon curd, just a perfect and winning combination, over them all.
So, if you have leftover egg whites in your fridge or freezer, this recipe is a must-try. Just whisk up some egg whites with granulated sugar, and what you will end up is delicious and sophisticated dessert rich in flavor and beautiful aroma.
Also, not only it tastes good, but it is made as individual servings, just perfect for presentation, and it represents a beautiful way to show off in front of your guests.
You can substitute the lemon and raspberry curd with just a regular whipped cream in soft peaks and a sprinkle of chocolate shards, but this curd gives it such a rich and decadent flavor as it's filling.
No matter how you will make it, you can not go wrong with this recipe. You will bring just Yuu's and Yaaas in front of the table.
Ingredients for Individual Chocolate Pavlovas
8 large egg whites
1 teaspoon salt
2 ½ cups granulated sugar
4 tablespoons corn starch
½ teaspoon vanilla extract
2 teaspoons white wine vinegar
melted chocolate
For the drizzle
fresh raspberries
8 oz lemon juice
10 egg yolks
8 oz sugar
1 teaspoon salt
1 ½ teaspoon lemon zest
How to Make Individual Chocolate Pavlovas
Preheat your oven to 350 F or 180 C degrees. Line with parchment paper cookie trey and set aside.
In a bowl, using a hand mixer, beat egg whites, salt, granulated sugar until stiff peaks form. Add in corn starch, vanilla extract, white wine vinegar and whisk until combined. Transfer one big spoon in a prepared cooking tray and place a little bit of melted chocolate. Add another big spoon of the egg white mixture and dollop a little bit of melted chocolate. Using a skewer whisk until marbled and bake for about 40 minutes.
Meanwhile, in a food processor, blitz together fresh raspberries and drain them through a fine-mesh sieve. In a saucepan over medium heat, heat the lemon juice and in a bowl aside whisk the egg yolks alongside with sugar, salt and lemon zest. Whisk until combined and with constant whisking pour in extremely hot lemon juice. Place it back the whole mixture in the saucepan and bring it to a boil until it thickens. Let it cool and mix it well with the raspberry puree. Decorate each individual pavlova with the lemon and raspberry curd and garnish with fresh raspberry and chocolate sprinkles.
To see the original recipe that inspired this one, check out the recipe for Mini Chocolate Pavlovas found at Tasty.