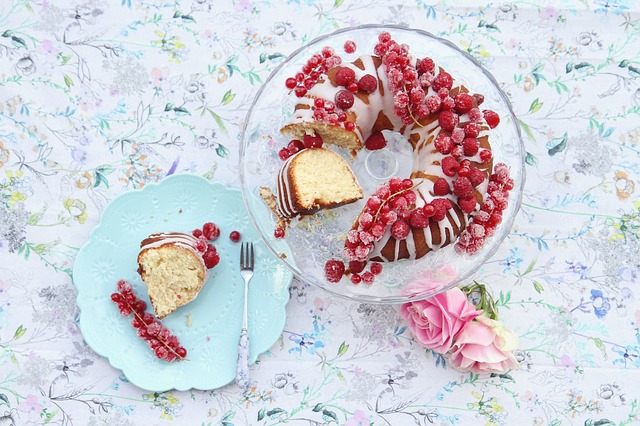 If you are looking for one of those classic recipes but with a bit of a modern twist, this recipe is the one that you are looking for. A white chocolate raspberry bundt cake is here to please all of your senses, and convince you that it is the all-time favorite recipe. 
A bundt cake is one of those classic recipes that are loved by every generation. With only a few key ingredients, you can add a different taste and look. In this case, the combination of white chocolate and raspberries sounds the best option that you can come up with. A fluffy dough made by a special recipe is the base of this exquisite dessert. To that awesomeness, you add a generous amount of good quality white chocolate.
If this is not enough, then the raspberries on top will make you want to get a piece right now. When you know this, how can you resist the urge to get in the kitchen and start baking!? You will find the complete recipe that never fails here, so you can get your hands busy as soon as possible.
Ingredients for White Chocolate Raspberry Bundt Cake 
1 package of white cake mix 
 100 gr. instant white chocolate pudding 
 1 cup sour cream or greek yogurt 
 4 large eggs 
 ½ cup milk 
 ½ cup of vegetable oil
 ½ cup fresh raspberries 
 pinch of salt 
 1 teaspoon of vanilla extract 
 zest of 1 lemon 
For the White chocolate frosting: 
8 oz cream cheese, softened 
 5 oz white chocolate, melted 
 1 teaspoon of vanilla extract 
 3 tablespoons milk
 1 cup fresh raspberries 
How to Make White Chocolate Raspberry Bundt Cake 
First, preheat your oven to 350 F or 175 C degrees and well butter bundt cake pan. Set aside. 
In a large bowl, combine the cake mix, white chocolate pudding, a pinch of salt, and set aside. 
In another bowl, whisk eggs, milk, oil, vanilla extract, and add in the dry ingredients. Mix well until smooth and well incorporated and add in the fresh raspberries and lemon zest. Stir gently being careful not to break the raspberries and pour the batter into the prepared Bundt cake pan and bake it in the preheated oven for about 40 to 45 minutes. Let it cool completely, and while that's doing start with the white chocolate frosting. 
In a bowl of an electric mixer beat in the cream cheese, white chocolate, vanilla, and milk. Mix on high until smooth and combined. Pour this frosting on the cooled Bundt cake and decorate with some extra raspberries on top. 
To see other recipes for White Chocolate Raspberry Bundt Cake, check out:
http://www.5boysbaker.com/white-chocolate-raspberry-bundt-cake-copycat-version/
http://bakedinaz.com/2015/05/white-chocolate-raspberry-bundt-cake.html
https://www.favfamilyrecipes.com/our-version-of-nothing-bundt-cakes-white-chocolate-raspberry-cake/