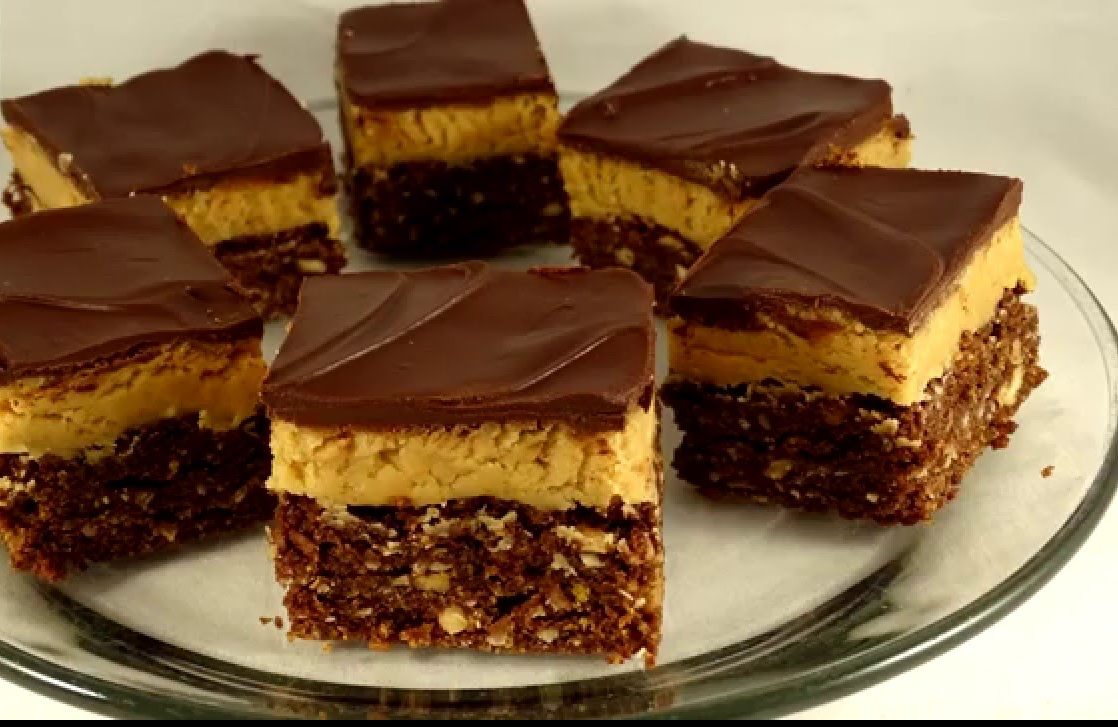 Nanaimo Bars are treats originated from Canada and got its name from the Nanaimo city itself found in Vancouver Island. It has three layers; the traditional ones are usually a wafer at the bottom, a custard filling and, and a chocolate top layer. 
Today we are making it more special with our peanut butter version. A combination of roasted peanuts and graham crackers on its bottom layer for a great texture, smooth and creamy peanut butter filling with a semisweet chocolate topping. This treat is for those peanut butter lovers like my grandchildren and me.
I hope you enjoy this recipe as much as I do. Happy baking!
Ingredients for Peanut Butter Nanaimo Bars
Base Layer:
¾ cup melted salted butter
⅓ cup granulated sugar
2 lightly beaten eggs
2 ½ cups graham cracker crumbs
¾ cup shredded sweetened coconut 
¾ cup finely chopped roasted peanuts
⅓ cup cocoa powder
Middle Layer:
1 ¼ cups smooth peanut butter
⅓ cup butter
3 cups powdered sugar
⅓ cup milk
Top Layer:
8 ounce semisweet chocolate chips
2 tablespoons butter
How to Make Peanut Butter Nanaimo Bars
This recipe is approximately for a 9×13" pan. Grease a parchment paper and place it on the pan, leaving pieces hanging over the edge to be used as handles later when we remove the bars. Combine all ingredients and then press them in the bottom of the greased pan. Bake them for 12-15 minutes at 180 degrees Celsius until firm. Please note if you are using a glass pan, you need to bake them for additional 6-8 minutes. Remove from the oven and let it cool.
For the filling, you need to melt the butter and peanut butter in a microwave. Stir until you can see the filling is in runny liquid form. Gradually add powdered sugar and milk. Stir the filling until smooth. You can use a spoon, but an electric hand mixer blends the ingredients better and gives a smooth texture. Spread over the bottom layer.
For the top layer, you need to melt the chocolate and butter in a microwave. Spread mixture over the peanut butter filling and then refrigerate until the chocolate is partially set. Score the surface of the bar into squares. You need to avoid cutting them thoroughly to prevent squeezing the filling. When the bar is totally set, remove from the pan and cut into squares. You can store them in the fridge or place them in a nice glass container at room temperature. 
To see the original recipe that inspired this one, check out the recipe for Peanut Butter Nanaimo Bars found at yoyomax12 – the diet free zone