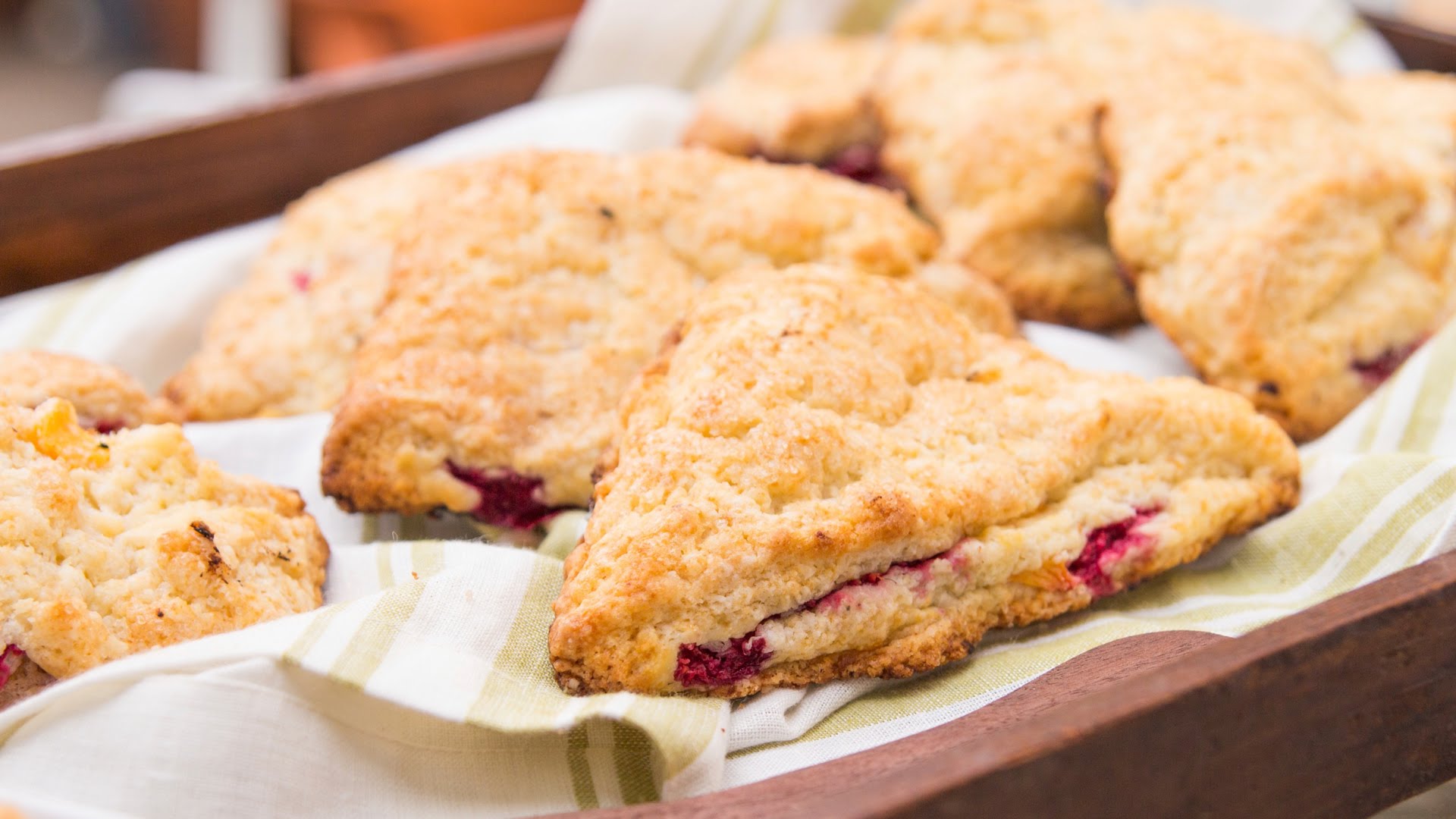 This recipe I am sharing today is a versatile one. You can serve it for breakfast, brunch with a latte, dessert, and even for afternoon tea. 
These peach and raspberry scones are so delicious. They look rustic, but that is what I love about them; they are fruity and buttery, and you must try them now.
The final touch of extra cream on top plus the sugar creates a wonderful color for these scones. Sugar forms as crystal don't just add a great look on your scones but an additional texture to your food.
Ingredients for Peach & Raspberry Scones 
2 cups all-purpose flour
¼ cup almond flour
¼ cup and 2 tablespoons of  granulated sugar, separated 
1 tablespoon baking powder
2 teaspoons lemon zest
1 teaspoon salt
10 tablespoon frozen shredded unsalted butter 
¾ cup and 2 tablespoons of heavy cream, separated
3 tablespoons of mascarpone cheese
2 peeled peaches cut into small pieces
¾ cup raspberries
How to Make Peach & Raspberry Scones 
Preheat oven to 180 degrees Celsius. In a large bowl, combine dry ingredients – all-purpose flour, almond flour, the ¼ cup granulated sugar, baking powder, and salt. Add the shredded butter and then pour the ¾ cup heavy cream until shaggy dough forms. It's okay if the dough looks dry and lumpy. 
Put enough flour on your work surface to prevent dough from sticking. Knead dough on the bowl and then transfer on your work surface. Continue to knead the dough then pat into a rectangle then roll dough about the 10×14-inch size. Keep sides even by pushing the edges inwards using a pastry cutter. Sprinkle the lemon zest on the dough and then spread the mascarpone cheese on the ⅔ of the dough. Add the peaches and raspberries on top of the mascarpone cheese. Start folding the dough starting on the top, which is empty and the bottom third. Pat it down until you form a long rectangle.
Cut the dough in half and then divide each half into three. Cut each piece into triangles and then put them on a parchment paper on a baking sheet. Using the two tablespoons of heavy cream and granulated sugar, brush the top of the scones with cream and sprinkle with sugar.
Bake the scones for 20-30 minutes until they are light golden brown. Place them on a wire rack to cool them down.
To see the original recipe that inspired this one, check out the recipe for Peach and Raspberry Scones found at Wyse Guide