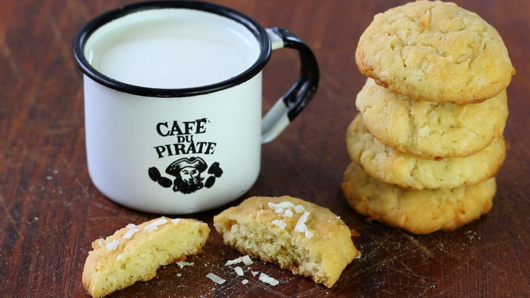 If you are looking for a healthier option of delicious treats, you should try making these dairy-free coconut cookies. They are chewy in the middle and have that crunchy outer layer that is simply divine. They are easy to make too. You can also make your homemade coconut butter; you just need unsweetened shredded coconut and a food processor. 
Share and enjoy these great cookies with your family and friends and make sure to serve them with hot chocolate or latte. 
These cookies can be stored in an air-tight container for up to two weeks—a great option when you crave some healthy treats.
Ingredients for Dairy Free Coconut Cookies
4 ounces of melted coconut butter
½ cup cane sugar
1 large egg
1 cup all-purpose flour
1 teaspoon baking powder
½ teaspoon baking soda
¼ teaspoon salt 
2 teaspoon vanilla extract
1 ½ cup coconut flakes 
How to Make Dairy Free Coconut Cookies
Mix melted coconut butter and sugar in a bowl. Add the egg and stir. Sift dry ingredients, flour, baking powder, baking soda, and salt and combine with the mixture. Put the vanilla extract and then coconut flakes. Mix until ingredients are well combined. 
Form a small ball using a teaspoon of the mixture. Place them on parchment paper on a baking sheet. Preheat the oven to 180°C / 350°F and then bake cookies for 10-12 minutes.
To see the original recipe that inspired this one, check out the recipe for Dairy Free Coconut Cookies found at BuonaPappa.