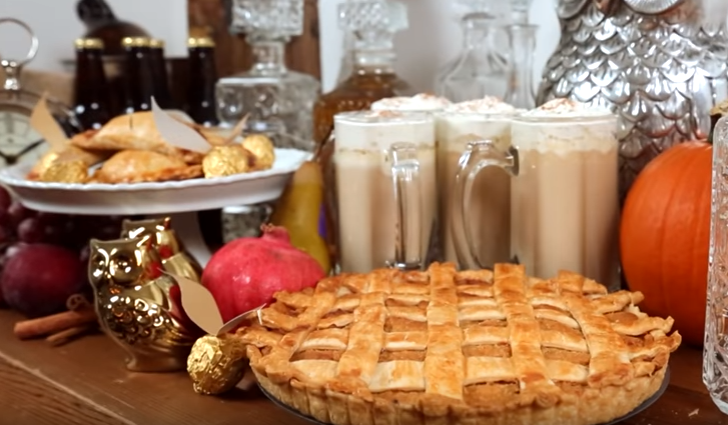 If you are a Harry Potter fan why not have a go at making these recipes that look so good all three of them ..there is pumpkin pastries a treacle tart and delicious butterbeer .. I love it
Some wonderful recipe to make for a party maybe you could make them for Halloween and have a harry Potter theme .. sounds good to me
These great recipes have been brought to you by The Domestic Geek on YouTube , thanks for sharing these recipes with us
Here below is the recipe for each one of the delicious recipes and the video tutorial to watch both from the YouTube channel
Pumpkin Pasties
2 store-bought piecrusts (or homemade if you're feeling fancy!)
1 cup pumpkin puree
1/3 cup brown sugar
1 tsp vanilla extract
½ tsp ground cinnamon
¼ tsp ground nutmeg
¼ tsp cloves
1 egg, beaten
Preheat oven to 375°F. In a small bowl mix pumpkin puree, brown sugar, vanilla extract, cinnamon, nutmeg and cloves until they are completely combined. Lightly flour your work surface and roll out piecrust. Using a cookie cutter or small bowl, cut 6-8 circles from the crust. Arrange the circles on a parchment lined baking sheet. Scoop about 1 tablespoon of filling into the centre of each circle. Dip your finger is some water and run it along the edge of each circle. Fold each circle in half and gently pinch the edges together. Brush the top of each pastie with egg wash (beaten egg) and bake for 18-20 minutes or until the crust is golden brown.
Treacle Tarts
2 store-bought piecrusts (or homemade if you're feeling fancy!)
1½ cups golden syrup (or molasses) https://goo.gl/qQp3wE
2 tbsp butter
¼ cup heavy cream
1 cup breadcrumbs
1 small lemon, zested and juiced
1 egg, beaten
Tart Pan: https://goo.gl/ASqbgf
Preheat oven to 375°F. Arrange the first pie crust in the bottom of a large tart pan (or pie plate). Cover the crust with parchment paper and add pie weights or dried beans to the prevent the pie from getting air pockets while baking. Bake for about 15 minutes. In the meantime, in a small saucepan, heat golden syrup over medium-low heat. Add cream and butter and stir until the butter is completely melted. Remove pan from heat and stir in breadcrumbs, lemon juice and lemon zest until everything is well combined. Remove parchment paper and pie weights from the piecrust and fill with the breadcrumb mixture. Cut the second piecrust into thin strips and then arrange them in a lattice pattern over the tart. Brush the top of the piecrust with egg wash. Bake for 15-20 minutes or until the top is golden brown and the filling is set.
Hot Butterbeer
¼ cup sweetened condensed milk
¼ cup butterscotch sauce
2 tbsp salted butter
2 cups vanilla cream soda
In a medium saucepan gently heat condensed milk, butterscotch sauce and salted butter over medium-low heat, whisking constantly. Once butter is completely melted stir in the cream soda. Simmer just until the cream soda is heated through so you don't lose the bubbles. Top with whipped cream or marshmallow fluff and a sprinkle of nutmeg.