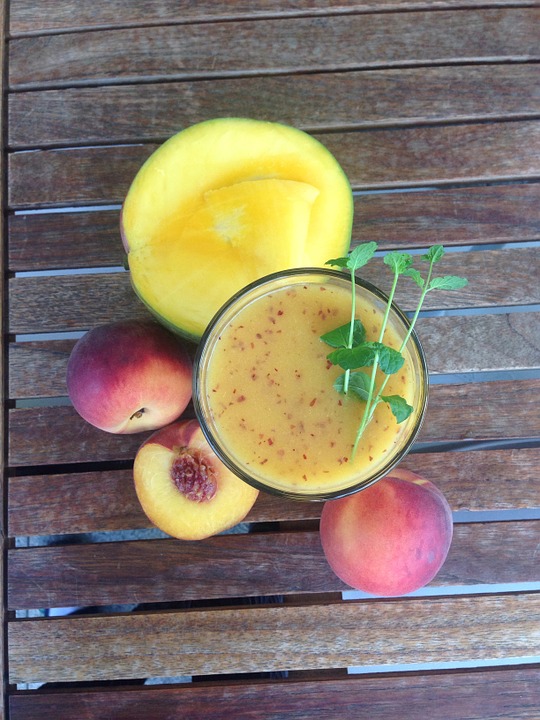 This is the perfect smoothie for any time of the day. It's fresh, sweet, and takes about a second to make. Even my kids love this smoothie because of the sweet taste from the mango and peach. Serve this for breakfast, pack for lunch, even for a late-night healthy snack. This recipe will make one glass of delicious smoothie. 
Smoothies have always been my option when I don't have time to cook, especially for breakfast. I always try to combine different fruits to create a new taste, and this recipe combination is definitely one of my favorites, and I want to share it with you today. 
You can make this smoothie the night before and ready to drink in the morning. Just make it according to the recipe, place it in a sealed glass container, and put it in the fridge. Add some Greek yogurt to it if you want a more fulfilling breakfast, sliced fresh fruits are also a great choice to add to the smoothie, and if you want it sweeter, you can add some honey to it. 
Ingredients:
1 medium peach (approx. ¾ cup), sliced 
1 cup ripe mango chunks (fresh or frozen)
1 6- ounce container of low-fat vanilla yogurt 
5 ice cubes or ½ cup crushed ice
How to Make Peach Mango Smoothie
In a blender jar, place the mango chunks, sliced peach, vanilla yogurt, and crushed ice. Blend until smooth and creamy. If it's too watery, add more fruit to thicken it and blend it again. Pour into serving glasses and serve. Enjoy.
Tips and Variations:
To dilute the smoothie, you can add peach nectar or orange juice.
To see other recipes for Peach Mango Smoothie, check out: 
http://foodviva.com/smoothie-recipes/peach-mango-smoothie-with-yogurt/
https://www.onelovelylife.com/peach-mango-bliss/