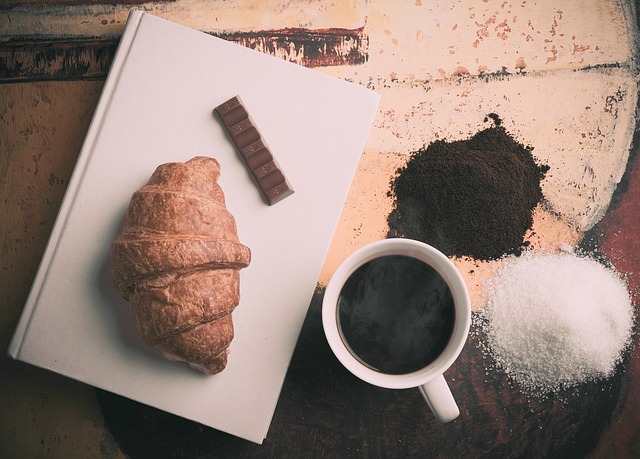 Chocolate and coffee are always a great pair. Now add some puff pastry like a croissant into the mix, and you will have an incredible and delicious pastry to serve for breakfast, snack, or a little get together with the family on the holidays. This recipe will make 12 delicious croissants to satisfy your family.
This classic French pastry is such a classic and internationally familiar that you probably can find every taste available to satisfy any taste buds. My husband and I happen to be coffee lovers, and this recipe just comes naturally to me. I know he will have a big smile when I serve this for him. 
Although there's already some coffee in this croissant, a cup latte is always a great pair for this pastry, just dip it into the coffee and taste heaven. If you like to add something a bit sweeter, you can always pour some honey on it or some blueberry/strawberry jam.
Ingredients for Coffee Croissant
Pastry Dough:
3 cups all-purpose flour
2 ½ teaspoon active dry yeast
1 teaspoon fine sea salt 
¾ cup warm vanilla almond milk
¼ cup raw of sugar
Butter Layer:
1 cup cold unsalted butter
Filling:
1 cup brewed Magic Beans Coffee
1 cup dark chocolate chips
How to Make Coffee Croissant
Add the warm milk to the yeast in stand mixer bowl. Stir and let sit for 3-5 minutes until frothy. Next, add in the sugar and salt, stirring with the dough hook on low speed. Slowly add the flour until the dough is smooth. Keep an eye on your consistency because you may not need all the flour. Remove the dough from the mixer and on a lightly floured work surface, knead for 3-4 minutes. Roll the dough into a rectangular shape about 1 ½ inch thick. Cover in plastic wrap and place in the fridge to chill for 1 hour. 
To prepare the butter, lay out a sheet of parchment paper, setting your sticks of the putter in a tight row and cover with an additional layer of parchment paper. Take a rolling pin and pound your butter. Try to form a rectangle about 8 x 5-inch and to have the butter in a uniform block. If your butter is in small chunks or has holes, it will seep through the pastry. Cover the butter square in plastic wrap and place in the fridge for 15 minutes. 
Remove the dough from the fridge and roll out into a 16 x 10-inch rectangle. Place the butter in the center of your dough. By taking the lower third and placing over first, fold the dough over the butter, followed by the top third. You should have something that looks like a book. 
Take your book and place it so that the shorter side is facing you. Unto a 16 x 10-inch rectangle, roll the dough back and repeat your folds like in the previous step. Wrap the book in plastic wrap and put it back in the fridge for another hour. Repeat this whole step 3 more times. The more folds you make, the flakier layers you will have.
Cut the "pastry" in half and into a rectangle about a ¼ inch thick, roll each half. Try to cut as many 5 x 7 in squares you can. Into two triangles, slice each square lengthwise. Stretch each of the triangles about another 1–2 inches with a rolling pin. Set the triangles on a lined baking sheet and place in the fridge.
For the filling, put the coffee and chocolate into a small saucepan and on low heat, stir the chocolate until almost completely melted, then remove from the heat. Use your pastry triangles and paint the filling halfway up from the widest part. Of each triangle, take the widest part and roll up to the tip. 
Let the croissants sit for about 60 minutes. Preheat your oven to 400 F. Brush with egg wash and bake for 8-12 minutes. Lower the temperature to 375 F and then bake until golden brown (8-12 minutes). Before serving, let cool 10-15 min. Enjoy.
To see other recipes for Coffee Croissant, check out: 
http://www.thefreshloaf.com/node/30579/coffee-croissant-match-made-heaven
https://twocupsflour.com/chocolate-coffee-filled-croissants/
https://www.homecookingadventure.com/recipes/quick-croissants