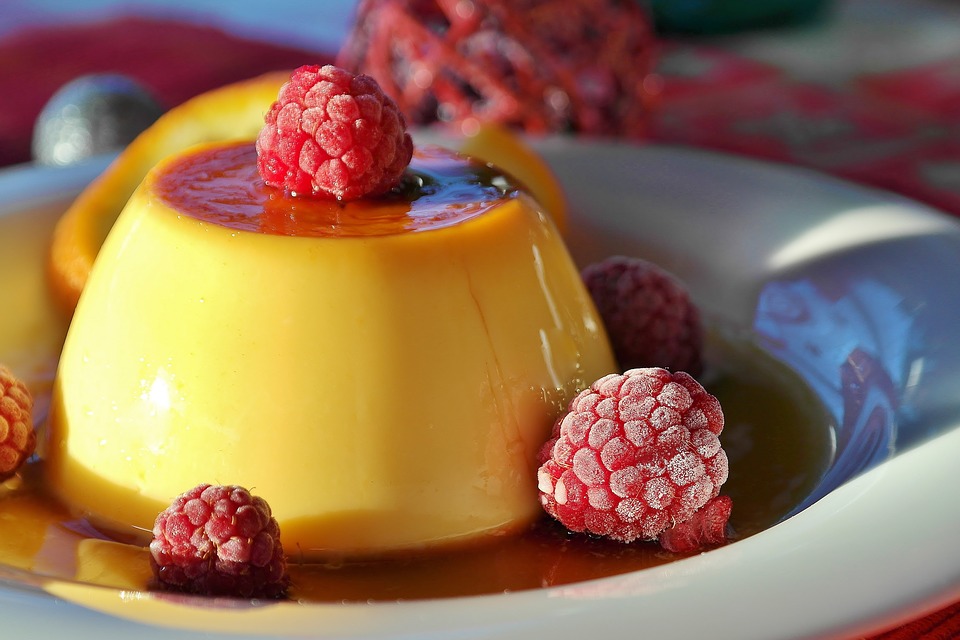 This is a popular dessert in Spain and all over Latin America. It's rich, creamy, and sweet flavor will surely be the star of any party or dinner. And it's so simple to make with everyday ingredients that you probably already have in your kitchen. Slice into 8-10 servings, but I won't tell anyone if it happens to be just 4-5 slices.
There's a café that I regularly visit, and one of the reasons is that they serve the most amazing caramel flan that I ever tasted; I can't get enough of it. It's so creamy and light but full of flavor. There's a lot of caramel flan recipe on the internet, and this recipe is the result of my research, and I hope that it brings smiles to your family when you serve it. 
Cut some fresh raspberry in two and serve it with the flan, believe me, it's a great pair for the flan. Or you can add raisins if you happen to have some lying around. I pour a little bit of honey on top, and it works great too. 
Ingredients for Creamy Caramel Flan
¾ cup of sugar
1 package (8 ounces) cream cheese, softened
5 large eggs
1 can (14 ounces) sweetened condensed milk
1 can (12 ounces) evaporated milk
1 teaspoon vanilla extract
How to Make Creamy Caramel Flan
Cook and stir sugar over medium-low heat in a heavy saucepan until melted and golden (15 minutes). Into an ungreased 2-qt. round baking or souffle dish, quickly pour while tilting to coat the bottom; let stand for 10 minutes. Add the cream cheese in a bowl and beat until smooth. Add in the eggs one at a time and beat until well combined. Add the remaining ingredients and mix well, and then pour over the caramelized sugar.
In a larger baking pan, place the dish and pour boiling water into larger pan to a depth of 1 inch. Bake at 350°F until the center is just set (mixture will jiggle) or about 50-60 minutes. Remove the dish to a wire rack and cool for 1 hour then put in the refrigerator overnight. Run a knife around the edges to unmold and invert onto a large rimmed serving platter. Spoon onto a dessert plate, pour the sauce over each serving, and enjoy.
To see other recipes for Creamy Caramel Flan, check out: 
https://www.tasteofhome.com/recipes/creamy-caramel-flan/
https://lovefoodies.com/creme-caramel-custard/