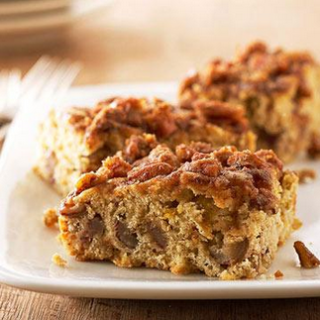 A great cake to make when you have family or friend over to have with that cup of tea or coffee , so why not give it a go and see what you think .. here below is the Nutrition Facts about it
Here below is the excerpt about this cake from the website also some Nutrition Facts about it too
We love serving this comforting apple dessert when the weather is cold, but the simple, pecan-studded cake is a winner for any season.
Nutrition Facts Per Serving:

Servings Per Recipe: 12
PER SERVING: 179 cal., 7 g total fat (1 g sat. fat), 18 mg chol., 153 mg sodium, 27 g carb. (2 g fiber, 12 g sugars), 3 g pro.
Diabetic Exchanges

Fat (d.e): 1; Mark as Free Exchange (d.e): 0; Other Carb (d.e): 0.5; Fruit (d.e): 0.5; Starch (d.e): 1
Here below is also a list of the ingredients you will need to make this cake from the diabeticlivingonline website
Ingredients
Nonstick cooking spray


2/3

cup fat-free milk


2/3

cup chopped pitted dates


1/4

teaspoon salt


3/4

cup coarsely shredded peeled cooking apple


1

teaspoon vanilla


1

egg, lightly beaten


2

tablespoons vegetable oil


1/2

cup chopped pecans


1/4

cup packed brown sugar*


1

tablespoon butter, softened


1

teaspoon flour


1

teaspoon ground cinnamon


1 1/2

cups flour


1

teaspoon baking powder


1/2

teaspoon

baking sod
To see the full recipe on diabeticlivingonline website please use the next page link below