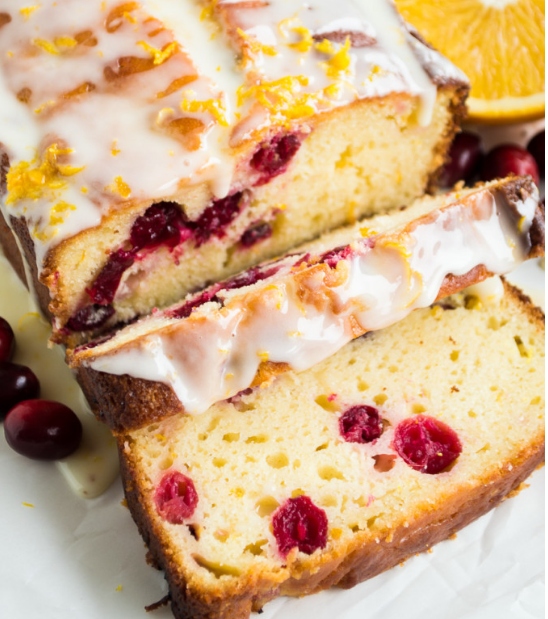 Welcome to 24 days Of Christmas Baking .. a count down to baking wonderful recipes for the family and friends to enjoy 
I love Christmas baking so I wanted to find you some recipes that I think you may love and share one with you each day ..
 Day 2

 ….

Glazed Cranberry Orange Bread

This  wonderful cake look so inviting that it just had to be my number 2 on the bake down to Christmas , just imaging making this bread to have with a mug of latte after coming back from Christmas shopping .. putting your feet up and relaxing in style

Or to have it Christmas morning what a treat

This great recipe has been brought to you by houseofyumm.com website ,thanks for sharing this recipe with us

Here below is an excerpt about this recipe from the website .. happy baking
Super moist Cranberry Orange Bread drizzled with an orange zest glaze, bursting with tart cranberries. Made using fresh orange juice and greek yogurt! This bread is always a hit!!
This Glazed Cranberry Orange Bread is almost like a pound cake. It's so tender and moist thanks to the combination of cooking with oil and Greek yogurt. I also added both fresh orange juice and zest making this bread burst with citrus flavors. Using both the zest and juice just gives an extra buzz of orange throughout the bread to mingle with the juicy, tart cranberries.  And of course, that orange zest glaze that is drizzled over the bread that seeps in and adds just a bit more sweetness, orange-ness, and moisture.