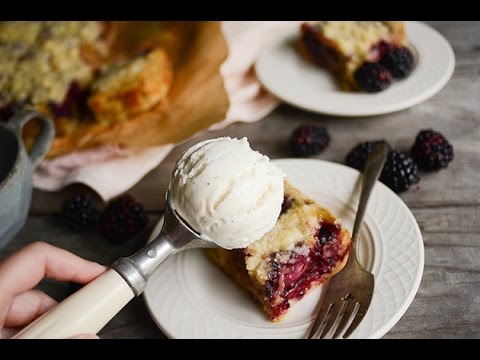 I love a good cobbler so when I came across this recipe for blackberry cobbler bars I was hooked they look so amazing with that really wonderful fruit of course if you can't find blackberries this recipe would work just as well with any soft fruit
A really yummy recipe that you just have to make …
This great recipe has been brought to you by LAB TASTE on YouTube, thanks for sharing this recipe with us
Here below is the recipe and the video tutorial both from the YouTube channel
Blackberry Cobbler Bars
Ingredients
FOR THE CRUST AND TOPPING:
1-½ cup All-purpose Flour
¾ cups Sugar
⅛ teaspoons Salt
1-½ stick Butter, Chilled
FOR THE FILLING:
2 whole Eggs
½ cups White Sugar
½ cups Brown Sugar
½ cups Sour Cream
6 Tablespoons All-purpose Flour
⅛ teaspoons Salt
1 teaspoon Orange Zest
½ teaspoons Vanilla Extract
8 ounces, weight Fresh Blackberries, Rinsed And Drained
Preparation Instructions
For the crust/topping: Preheat the oven to 350ºF. Grease a 9×9 inch baking pan. Combine the flour, sugar, and salt in a medium bowl. Cut the butter into 1/2-inch cubes, and add to the flour mixture. Using a fork for pastry cutter, cut the butter in until mixture resembles coarse crumbs. Reserve 3/4 cup of the mixture to use as the topping. Press the remaining mixture into the bottom of the pan, and bake for 10-12 minutes. Cool for 10-15 minutes.
For the filling: Whisk the eggs in a large bowl, then add the white and brown sugar, sour cream, flour, salt, orange zest and vanilla extract. Gently fold in the berries and pour the mixture over the crust. Scatter the remaining flour mixture evenly over the filling and bake 35-45 minutes.
Cool for 1 hour before cutting into bars. Serve with fresh whipped cream, cold ice cream, or just eat straight from the pan!
Recipe Note: I only added a small amount of orange zest, because I didn't want to overpower the fresh berries. If you want more orange flavor, add more zest.