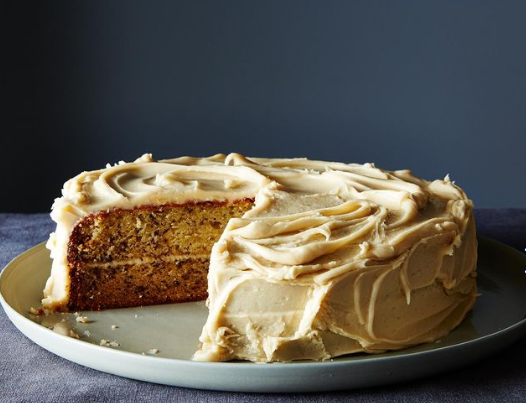 What a wonderful looking cake, I know you all seem to love banana desserts so how about the banana cake with a delicious penuche frosting , which is a caramel frosting
Penuche (Italian: panucci) is a fudge-like candy made from brown sugar, butter, and milk, using no flavorings except for vanilla. Penuche often has a tannish color, and is lighter than regular fudge. It is formed by the caramelization of brown sugar; thus, its flavor is said to be reminiscent of caramel.
As you will see from the recipe the frosting is a fudge like caramel frosting and with that banana cake well it is a match made in heaven
This great cake recipe has been brought to you by food52.com website , thanks for sharing it with us
Here below is an excerpt and a list of the ingredients you will need from the website
This has a light, airy crumb, one that lends itself well to a layer cake. But the real star here is the frosting; its brown sugar-milkiness shines through, a perfect complement to the banana.
Makes one 2-layer cake
Banana Cake
1 1/2

cups sugar

1/2

cup butter

2

eggs, separated

2

bananas, crushed

1/2

cup sour milk

1 2/3

cups pastry flour

1

teaspoon baking soda

1/4

teaspoon baking powder

1/2

teaspoon salt

1/2

cup chopped nuts (optional)
Penuche Frosting
1/2

cup butter

1/4

cup milk

1

cup brown sugar

1 3/4 to 2

cups powdered sugar