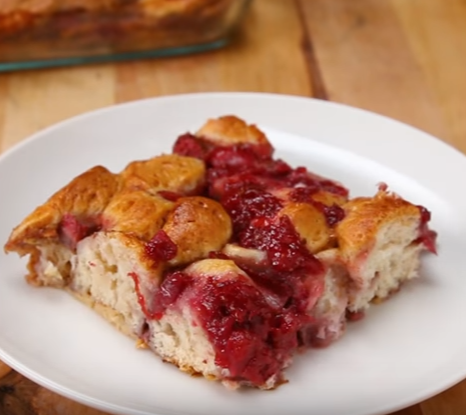 I totally love to bake so when looking for new recipes I often go onto YouTube as I love to follow recipes that have that video tutorial with them , so I wanted to share a few recipes with you that caught my eye like this one for Strawberry French Toast Bake , Which I really hope you enjoy baking
What I love about video tutorial recipes is that you can see the product that you are baking unlike a written recipe although some of the video recipes come with them too .. happy baking
This great recipe is brought to you by Tasty on YouTube, thanks for sharing this recipe with us
Here below is  the recipe  you will need and the video tutorial both from the YouTube channel
Here is what you'll need!
STRAWBERRY FRENCH TOAST BAKE
Servings: 6-8
INGREDIENTS
8 biscuits (or 1 can biscuit dough)
1 cup strawberries, quartered
Strawberry Filling
2 cups strawberries, finely diced
½ cup sugar
Egg Mixture
2 eggs
½ cup milk
½ cup maple syrup
1 teaspoon vanilla extract
½ teaspoon cinnamon
Garnish
Whipped cream
PREPARATION
1. Preheat oven 350˚F/180˚C.
2. Slice biscuits into 8 pieces and place in a greased baking dish.
3. In a saucepan on medium heat, combine strawberry filling ingredients and cook until it reaches a boil. Reduce heat to a simmer and continue to cook until filling reaches a smooth consistency. Remove from heat and set aside.
4. Combine egg mixture ingredients in a large bowl and spread evenly on top of biscuits in the baking dish. Top with strawberry filling and fresh strawberries.
5. Bake for 40-50 minutes, or until golden brown.
6. Garnish with whipped cream.
7. Serve and enjoy!