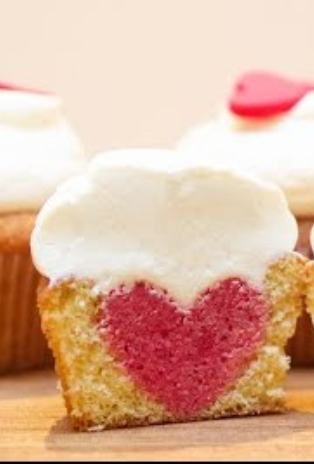 With Valentines day approaching,if you're getting really excited about it and I'm sure you are and if you were wondering what to make your Valentines for Valentine's Day, why don't you make these little vanilla cupcakes with a secret heart baked inside
The first thing you need to do is bake some pink sponge, this is going to be the heart that goes inside the cupcake for that you need to grease and flour two eight-inch tins.
You may not need all of these but you can't really split this mixture any further.
So into your mixer add 200 grams of caster sugar and 200 grams of softened unsalted butter and then just beat that for a few minutes until it's really pale and white and fluffy
Once it has gone pale and fluffy it's time to add the eggs, crack in the three large free-range eggs adding them slowly. It's always better to crack eggs into a jug first in case there is any shell in there and you can whisk it slightly just to break them down a bit so they pour easier.
Mix well between each egg added until the batter becomes silky smooth and the eggs all mixed in
Now you need to add the flour,use 150 grams of plain flour and 50 grams of self-raising flour and just sift that straight into the bowl and then mix that really gently or fold it in, you can do it by hand if you prefer to. You don't want to over mix it because you don't want to knock out all the air, and then lastly in a glass add a tablespoon of whole milk and put a half a teaspoon of vanilla extract in there, mixing it really well
Now to make that pink you need some food colour paste. It's a claret colour and be quite generous with it, take a kind of pea-sized blob and mix it really well into that milk you have in the glass, once that's all mixed in you just need to add that to the batter and again fold it really slowly you can do this by hand if you're worried.
Once it's all really thoroughly mixed you need to put an even amount into each tin and then level it with a palette knife, once these are nice and level you just need to bake them at 160 degrees C for about 20 minutes or until they're cooked all the way through
Once your cakes are out of the oven, leave them to cool ,now and if you just take one of them and using a cake leveller, level off the top by taking that crusty bit off the top, you can use a serrated knife for this, just make sure it's nice and long and make sure you did it really evenly
The next step is to get a heart cutter and just cut out 12 hearts from the middle of your cake. Set them to one side as you need them for later on.
Now you need to mix some cupcake batter and for this you need to sieve 125 grams of self-raising flour and then add a quarter of a teaspoon of bicarbonate of soda, 125 grams of caster sugar. Make sure you sift that all through and then to that add 125 grams of softened unsalted butter . Mix this all together on slow speed and then increase it when it all combines
Crack two large free-range eggs into a jug and beat lightly , then add those in and get it mixing.
Once it has been mixing for a while and is silky smooth add one and a half tablespoons of whole milk and a quarter of a teaspoon of vanilla extract and just pour that in while it's still going and then increase the speed and mix it for about 30 seconds
Once the mixture has been going for a minute or so and is smooth and silky, stop the mixer and scrape any batter off the paddle or whisk.
Then using a spoon, scoop an even amount into each case of your cupcake tin,this mixture makes 12 but once you've done that then you to put your secret heart right into the middle of your cupcake mixture.
Just push it right into the middle of the cake batter,pointed end down and push all the way down to the bottom and once they're all in you need to bake them,  you need to put them all in the same direction so that's so that you know which around these hearts are so when you cut into it could be any which way so keep them all in the same line and ice them all in the same line and that way you'll know.
Now you need to bake them at 170 degrees C for 18 to 20 minutes depending on your oven or until they're completely cooked all the way through, and once cooked and out of the oven leave them to completely cool down.
Meanwhile put some buttercream into a big piping bag with a nice big fat round nozzle on the end, you can either make the buttercream or buy it ready made.
If you still keep all your cakes pointing in the same direction so the hearts are all kind of lined up vertically then you don't lose track of where the heart is because you're going to cover them up with buttercream, another nice touch is to make some little red sugar paste hearts and put two on the top of each cake and that way you're going to know if you cut through the middle of your hearts you are sure that your valentine is going to get a surprise in the middle of their cupcake.
Have a happy valentines day with these…
Recipe…
For the pink hearts –
200g soft unsalted butter
200g caster sugar
3 lg free range eggs
50g self raising flour
150g plain flour
1 tbsp whole milk
1/2 tsp vanilla extract
A blob of pink food colour paste
For the Cupcakes –
125g soft unsalted butter
125g caster sugar
2 lge free range eggs
125g self raising flour
1/4 tsp bicarbonate of soda
1.5 tbs whole milk
1/4 tsp vanilla extract
Vanilla Buttercream and heart decorations!