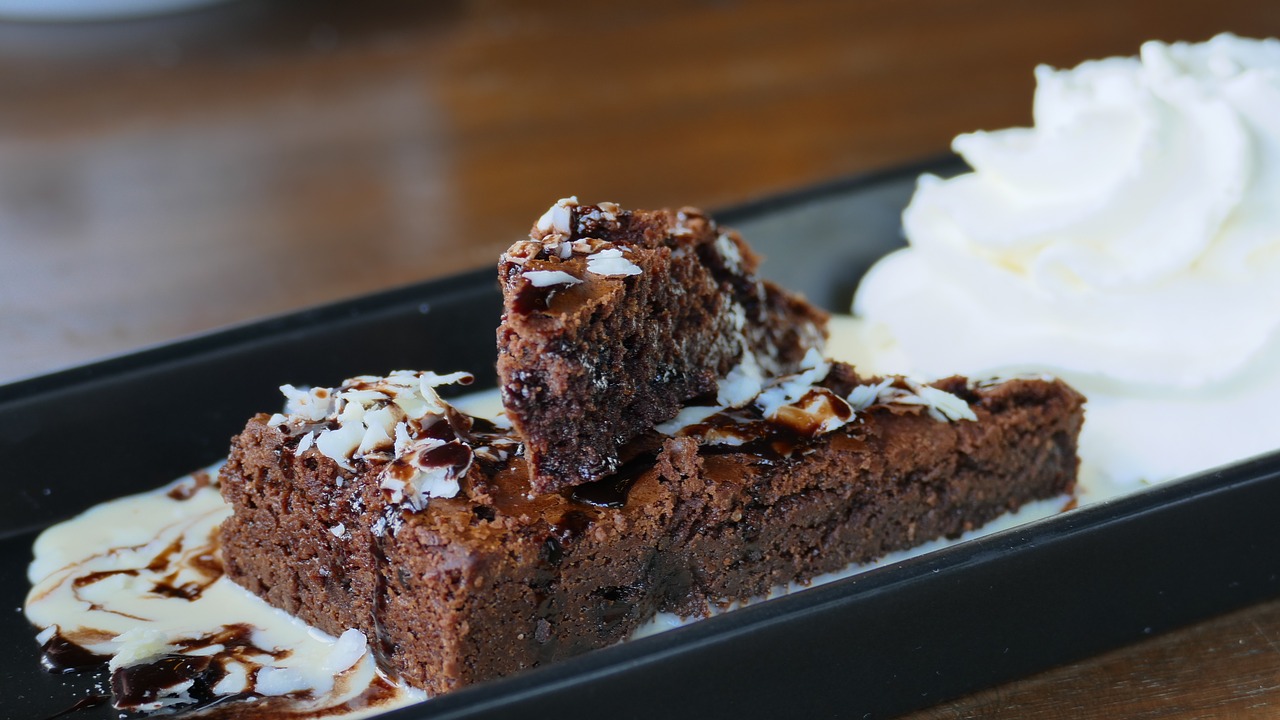 Let's bake some brownies!
So now your first ingredient into the bowl is melted butter. Now I get a lot of questions about the butter to use– salted or unsalted and I always use salted, 'cause it gives that little bit of extra flavor to all of your baking. But it's honestly up to you what you want to use .
Moving on then, our next ingredient is brown sugar. Now I love to bake with brown sugar because it gives your baking a lovely caramel rich flavor. If you don't have brown sugar, you can always use white,  Then you need to follow that with some white sugar.
The next ingredient is flavourless oil, and by flavourless oil I mean any type of oil except for something very strong like olive oil.
Now what this does to your brownies, it makes them really moist and fudgy. So you don't wanna miss out on this, it's like our secret ingredient.
Then just whisk it all together for around two minutes.
Just as a little comment here for you now, you know when you get a brownie and there's a little bit of fudgy stuff in the middle? Well these brownies are all fudge. There's no cake, they're all rich, gooey, fudgy, yumminess. So I know you're gonna freak out when you see them.
Okay, that's all mixed up, now we're gonna add in our other ingredients.
So into here, you're going to add in some vanilla extract. If you don't have it you can leave it out, but I recommend adding it in because it gives such lovely flavour.
Next add in some salt, and what salt does when you add it to sweet stuff is to just balance the flavours a bit so it isn't too sweet.So a little bit of salt in there brings out all the flavors of the cocoa and the chocolate too.
And your next ingredient are eggs. Now I don't want you to worry, if you don't eat eggs, you can still make these brownies. You can replace eggs with applesauce, mashed banana, there are lots of options you can use in this recipe. Now just crack all your eggs in there, and then just whisk them in until they're well combined.
Now this is the kind of recipe that I love because you mix it all by hand, you don't need a machine at all. Once everything is combined, you can add in our last few ingredients.
Now at this point you need to place a sieve over the mixing bowl, then into this you are going to add in some flour, now you can use gluten-free flour if it's all purpose, or you can even use a whole wheat flour because sometimes I get questions about that too.
Okay, and now,here is the star of the show: rich, dark cocoa powder. Now when it comes to cocoa powder, don't buy sweetened cocoa powder.
You don't want any sugar in there. You want pure, dark, rich, bitter cocoa powder. So, buy as best quality as you can. And just in case you're thinking of using hot chocolate powder instead of cocoa powder, don't do it. I used to do that when I was young. It's not the same thing.
Now just sift in your dry ingredients.
Always sift cocoa powder because it can end up having lumps in it and you want to make sure they work themselves out before they go into your mix. Once everything is in there get your spatula and fold these ingredients together. Now, when it comes to adding in flour, you don't want to beat in flour, you want to gently fold it into your mix, be it a cupcake, cake, whatever it is. If you over mix flour, it can actually make your baked good kind of tough, so just very gently mix it in, until it's all combined and then stop.
So now the next ingredient is big chunks of dark, bittersweet chocolate. Now I like to chop up my own chocolate so I get big bits and small bits all the way throughout my brownie. But I always recommend, use something that's a little bit darker like 72% cocoa solids, you get a really nice balance of bitter and sweet.
Okay, just gently fold those chunks in.
And that's it! It's ready for your tin. So here you need a "7 x 11" tin, now if you have a little bit of a bigger tin, you can use that, don't worry about it, you just wanna make sure you don't overcook your brownies, so they might take less time.
And then you're just gonna go and pour in all of the lovely, gooey, yummy batter. Now all you want to do is take your spatula, and just spread it out into the corners of your tin, make it nice and level.
If you have noticed already these also make really thick brownies. So they're definitely a winner, for sure. Then, it's ready to be baked off.
Bake your brownies off at 350 degrees Fahrenheit, or 180 degrees Celsius, for 35-40 minutes. Now when it comes to these brownies, the key is not to over bake them, you want to have them still nice and squishy in the middle, so don't go longer than 40 minutes.
Now if you can bear it, let these rest for around two hours just so they can kind of relax and settle into themselves.
You know when your brownies are perfectly cooked when they're a little bit firm around the outside but they're still soft to the touch in the middle.
These can be finished off with some grated dark or white chocolate and some fresh cream or simply eat them as they are.
Ingredients
1 cup (8oz/240g) butter, melted and cooled
2 tablespoon vegetable oil
1 cup plus 2 tablespoons (6¼oz/184g) brown sugar
1 cup plus 2 tablespoons (8¼oz/244g) white sugar
4 large eggs, room temperature
4 teaspoons vanilla extract
1 cup (5oz/150g) all purpose flour
1 cup (4oz/120g) good quality, unsweetened cocoa powder
1 teaspoon salt
1½ cup (9oz/270g) roughly chopped chocolate or large chocolate chips
Instructions
Preheat the oven to 350°F (175°C) then line a 7×11 inch baking tray with parchment paper and set aside.
In a large bowl combine melted butter, oil and both sugars.
Add the eggs, vanilla and salt then whisk for about one minute until evenly combined and light in color.
Over the same bowl sift in the flour and cocoa powder. Gently fold the dry ingredients into the wet ingredients until JUST combined (do NOT over mix). Fold in half of the chocolate chunks.
Pour the batter into the prepared pan, then smooth the top. Generously top with the remaining chocolate chunks.
Bake for 35-40 minutes, or until the centre of the brownies no longer jiggles and is JUST set to the touch.
Remove from the oven and allow to cool to room temperature before removing from the baking tray and slicing into 16 brownies. Enjoy!