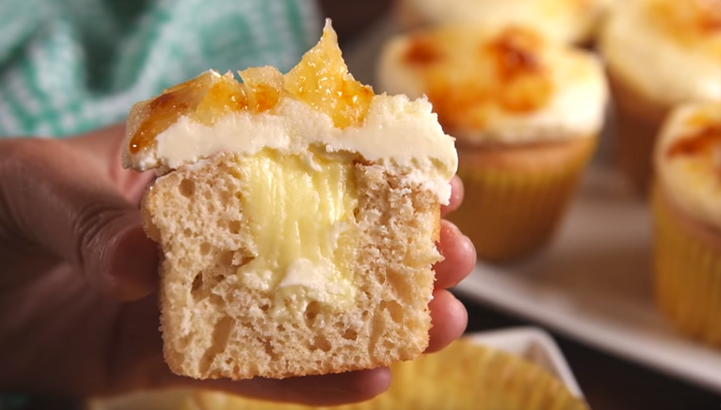 I love looking for some new recipes for you all especially new ones that I find on YouTube as visual recipes are so much better I think so How about this one for Creme Brulee Cupcakes by Delish a really great recipe that I hope you give a try
Thanks for sharing this recipe with us
Here below is a list of the ingredients you will need and the recipe
INGREDIENTS
1 box vanilla cake mix, plus ingredients called for on box
1 box instant vanilla pudding
2 c. cold milk
1 c. butter, softened
4 c. powdered sugar
1/2 tsp. pure vanilla extract
pinch of salt
2-3 tbsp. heavy cream
1/2 c. sugar
DIRECTIONS
1. Bake cupcakes: Preheat oven to 350° and line two cupcake pans with liners.
2. Prepare vanilla cake batter according to package instructions and divide between cupcake liners. Bake according to package instructions. Let cool completely.
3. Make filling: In a large bowl, whisk together pudding mix and cold milk until thickened, about 3 minutes.
4. Make frosting: In a large bowl using a hand mixer, beat butter until light and fluffy. Add half of the powdered sugar and beat until smooth. Add remaining powdered sugar, vanilla and salt, and beat until fluffy. Add heavy cream if the the frosting is too thick.
5. Using a paring knife, cut out a small well out of each cupcake and fill it with vanilla pudding. Then using a small offset spatula, spread frosting on top. Sprinkle each cupcake immediately with sugar.
6. Transfer filled and frosted cupcakes to a large runner baking sheet and broil until the sugar in tip of the frosting caramelizes, about 2 minutes. Let cool completely, then serve.