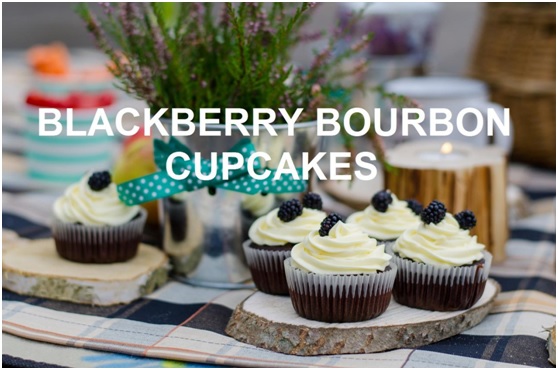 Blackberry Bourbon cupcake is a simple, delectable vanilla bourbon cake recipe infused with blackberry and bean buttercream. These are perfectly moist and soft due to sour cream in the recipe with a bit denser texture. The blackberries used in the cupcakes recipe are healthy for your brain and helps to increase your brain activity. The scrumptious cupcakes can be made for any event, meet up, or get together. The recipe is easy to make and simple; you can find its ingredients easily in your kitchen or near the grocery store. This can be served to 24 members at a party or home.
This reminds me of a family get together when I made these delicious cupcakes. Everyone was impressed by my cooking techniques, and now my mom specially asks me to make these delicious cupcakes for her. This is good for birthdays or kitty parties. I suggest you try this at home and share the beautiful moments with your family.
The blackberry bourbon cupcakes can be served in a simple dish; everyone can just pick it up and enjoy these dazzling cupcakes. The simple blackberry filling in cupcakes, which is made by cooking berries, really complements this recipe. You can leave some berry chunks if you want. You have a choice to serve the cupcakes with whipped cream, blueberries, and blueberries sauce at the top.
Ingredients for Blackberry Bourbon Cupcakes
Cupcake Base 
2 1/2 cups cake flour (From 1 cup all-purpose flour remove 1 tablespoon flour and replace with one tablespoon cornstarch, sifted together several times) 
1 1/2 tablespoons baking powder
1 teaspoon salt
1 and 1/3 cups sugar
1/3 cup milk
6 egg whites
12 tablespoons unsalted butter at room temperature
Blackberry Glaze/Puree
12 ounces blackberries
1/2 to 1 cup sugar, according to your taste
1/2 lemon, juice and zest
Vanilla Bean Bourbon Frosting
6 teaspoons flour
1 cup milk
1 cup vanilla sugar
1 cup butter
1 teaspoon vanilla extract
1 vanilla bean
2 tablespoon bourbon or whisky
How to Make Blackberry Bourbon Cupcakes
Cupcakes
Preheat the oven up to 475 F. Sift cake flour, baking powder and salt together and set them aside. Mix butter and sugar for 2-3 minutes with the help of a mixer until it becomes fluffy and smooth. Whisk milk and egg whites in a bowl and set aside. Then gradually mix butter-sugar mixture and add 1/3 of dry sifted ingredients. Then slowly add the fairly mixed egg-milk mixture in 2 to 3 batches. Add remaining dry ingredients to the mixture and combine them. Then fold in part of blackberry glaze, and you can leave behind patches of blackberry. Fill the cupcake liner half and bake it for 15-20 minutes. Insert a toothpick and check if it's clean. Remove them from the oven and let them cool.
Blackberry Glaze/Puree
Mix sugar, blackberries, lemon juice, and zest in a saucepan. Cook the sauce until blackberries start to burst and let it cool. Press mixture through the strainer with a spatula to remove seeds.
Vanilla Bean Frosting
At medium heat, combine milk and flour in a saucepan. Stir the sauce until it becomes thick like paste when you can see pan bottom. Remove it from heat and let it cool. Mix cream butter and vanilla sugar 2-3 minutes to make it creamed and fluffy. Add flour mixture and mix it at high speed to mix thoroughly. Then add bourbon/whiskey and vanilla extract in it — pipe frosting on blackberry cupcakes with blackberry puree and whole blackberry.
Enjoy delicious blackberry bourbon cupcakes with your family!
To see other recipes of blackberry bourbon cupcakes visit these sites:
http://www.southernfatty.com/blackberry-bourbon-cupcakes/
https://food52.com/recipes/26178-blackberry-bourbon-cupcakes
https://beyondfrosting.com/2018/06/27/blackberry-bourbon-smash-cupcakes/