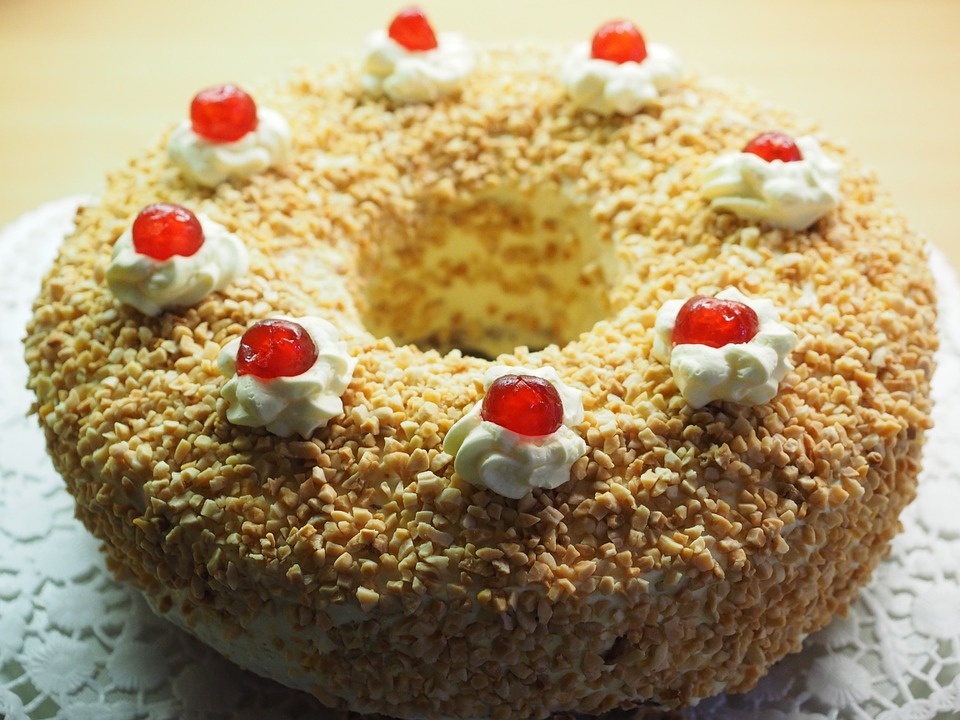 If you are craving a dessert that is easy to be put together and has a very lovely presentation, you are in the right place. This Frankfurt Wreath Cake recipe is an absolute favorite in my home, and I assure it will be in yours once you make this delicious and representative cake.
The nicest thing about the recipe is that you can assemble it in under an hour, including time for baking. Do you know why? This is because you are going to "cheat" on the filling of the cake. I am using store-bought vanilla pudding, and I have whipped it up with butter and rum for a little bit of kick. And in under 7 minutes, you have one delicious filling for a cake that everyone will go wild for.
The nice presentations come from the Krokant, which is crushed nuts, and the whole cake is decorated with these mini nut bites, which not only adds a pretty look to the cake but also a nice crunch to it as well. This wreath cake is an absolute must-try for those who like to entertain a lot. Enjoy it to the fullest.
Ingredients for Frankfurt Wreath Cake 
For the Cake:
 ½ cup of all-purpose flour 
 1/3 cup of cornstarch 
 1/2 teaspoon baking powder 
 ½ cup (100 g) granulated sugar 
 2 eggs 
 1 tablespoon water 
 1 teaspoon of vanilla extract
For the filling:
1 package vanilla pudding 
 250 g. butter, softened 
 ½ cup (100 g) icing sugar
 2 teaspoons rum extract 
 100 g. krokant ( nut brittle) for crunchy decoration on the outside of the cake
How to Make Frankfurt Wreath Cake 
Preheat your oven to 350 For 180 C degrees. Grease well cake pan that has a hole in the middle. Set aside
In a bowl, mix with hand mixer egg whites with water until foamy and gradually add in the granulated sugar. Set aside and in another bowl mix with a hand mixer, the egg yolks alongside with the vanilla extract until the pale yellow color and add in this mixture into the beaten egg whites mixture. Fold in with a spatula and add in the flour, cornstarch, and baking powder all mixed together. Mix well and transfer the batter in a prepared ban. Bake for about 25 minutes and then let it cool completely and cut it in three layers.
To make the frosting in the vanilla pudding add in the softened butter, icing sugar, and rum extract. Mix with a hand mixer until fluffy and all mixed through.
Spread the filling with the help of a spatula on each layer and assemble the cake. Spread some of the fillings on the outside of the cake, smooth it out and cover it with Krokant. Chill it before serving.
To see other recipes for Frankfurt Wreath Cake, check out:
https://www.thespruceeats.com/recipe-for-the-famous-frankfurter-kranz-1446631
Frankfurt Wreath (Frankfurter Kranz)
https://luxuryrecipes.blogspot.com/2011/03/frankfurt-wreath.html