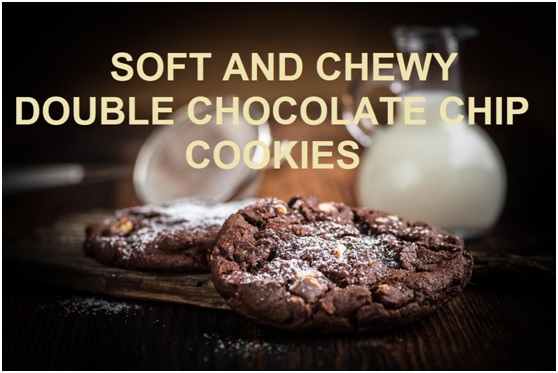 Soft and chewy double chocolate chip cookies are all-time favorite cookies of kids; its soft and chewy texture makes it more dazzling. The chocolate used cookies are bliss for chocolate lovers. When you are feeling down in your busy life, these delicious cookies are a feast for you. The chocolate does not only add a magnificent taste in cookies but also healthy for the heart. The cookies can be served in a party or tea time, or you have a choice to cook them for everyday routine. The recipe is simple, quick, and easy to make; you can get ingredients from your kitchen or refrigerator. This is a recipe for 12-14 cookies; you have the liberty to double up if you have a big family or and event.
As a kid, I used to like chocolate and cookies, and my lovely grandma combined these two things and made a yummy dessert of chewy double chocolate cookies. When I was young, I always asked my grandma to make these cookies for every birthday party. I am going to share this delicious recipe with you, and I am sure your kids and family are going to love not only its taste but also its texture.
The cookies can be served on a plate or a beautiful dish, your kids, can handpick and enjoy these cookies. This is a complete and perfect dish; you do not need additional ingredients to serve these cookies. The preparation time of this delicious chocolate chip recipe is only 14 minutes.
Ingredients for Soft and Chewy Double Chocolate Chip Cookies Recipe
10 tablespoons butter at room temperature
1 cup sugar
1 egg
1 cup flour
1 teaspoon vanilla
1/2 teaspoon baking powder
3/8 cup dark cocoa 
1/2 cup chocolate chips
1/4 cup finely chopped nuts
How to Make Soft and Chewy Double Chocolate Chip Cookies Recipe
Preheat oven at 350˚. Mix wet ingredients in a bowl and dry in another. Then gradually add dry ingredients in the bowl containing wet ingredients and mix them well. Then add chocolate chips and add nuts (optional). Give the mixture shape of cookies (12-14 cookies) and bake them on the baking tray for 9 minutes. If you want soft cookies, then do not over bake them, after baking set them aside for a few minutes.
Enjoy chewy double chocolate chip cookies with your family!
To see the other recipe of chewy double chocolate chip cookies visit these links:
https://temeculablogs.com/chewy-double-chocolate-chip-cookies/
http://www.justalittlebitofbacon.com/
https://www.ambitiouskitchen.com/chewy-double-chocolate-chip-cookies-sea-salt/