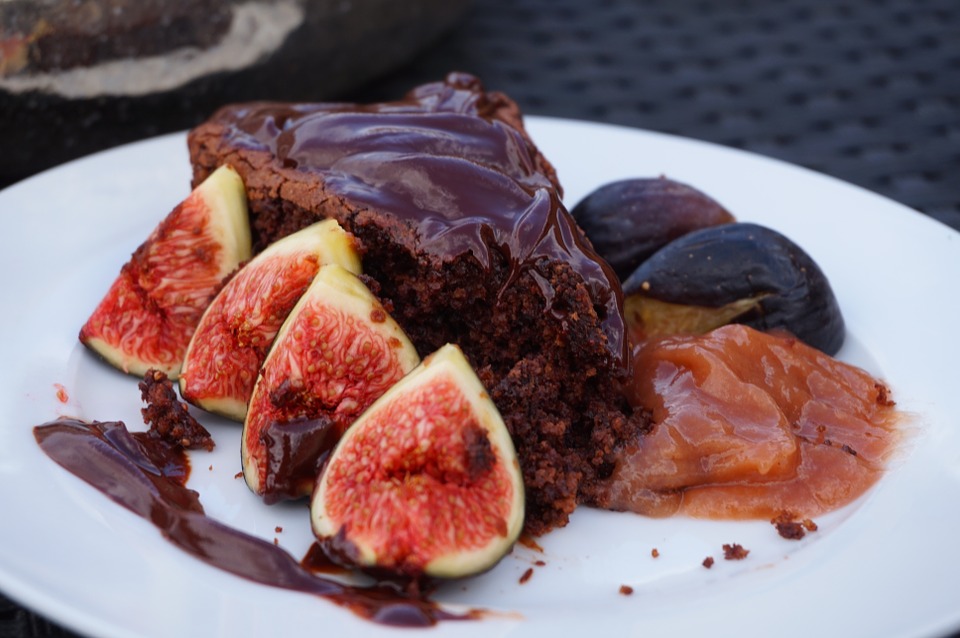 Thousands of fresh foods are selling on the markets with their most beautiful fragrant taste. Today, I decided to make another fabulous recipe for you – chocolate and caramel cake with fresh figs on the side. 
It's an absolute showstopper for your upcoming party or a family gathering. This is something I recommend trying out, even if you are a beginner in the kitchen. With this foolproof recipe, you can not go wrong. Everything happens in a bowl you combine dry with wet ingredients, and you are ready to go. 
Chocolate and caramel have always been one of my dearest food combos, and this recipe is proof of that. The fresh figs add a touch of freshness to the recipe. All I am going to say is that you are going to thank me for this recipe. It is an absolute favorite in my house, and you can make it on your own, once you make the recipe. 
Ingredients for Chocolate Fig Cake 
½ cup all-purpose flour 
 ½ cup of cocoa powder 
 ½ teaspoon of salt 
 ½ teaspoon of baking soda 
 1/3 cup vegetable oil
 1 large egg 
 1 egg yolk 
 ½ teaspoon of vanilla extract 
 ½ teaspoon of lemon zest 
 fresh figs for decoration 
 5 tablespoons dark dulce de leche sauce to cover the cake 
How to Make Chocolate Fig Cake 
Preheat your oven to 350F degrees/180C degrees. Grease well a 12-inch springform pan and set it aside. 
Dissolve cocoa powder in boiling water and let it cool slightly. 
In a large bowl, combine the dry ingredients: flour, salt, and baking soda. 
In another large mixing bowl, combine egg, egg yolk, sugar, vegetable oil, dissolved cocoa powder, vanilla extract, and lemon zest. Add in the dry ingredients and stir well with the help of a spatula. Be careful to not over mix the batter. Pour in the batter into the prepared springform pan and bake the chocolate cake for about 30 minutes or do a toothpick check.
While the cake is still hot from the oven, glaze it with dulce de leche sauce over the top of the cake. Let it cool and cut out one slice. Serve it on a plate with few fresh figs and enjoy. 
To see other recipes for Chocolate Fig Cake, check out: 
https://www.generalmillscf.com/recipes/chocolate-fig-cake/6187a79c-5621-4190-a828-897ed17956e4
https://www.thelittleepicurean.com/2016/09/caramel-fig-chocolate-cake.html
https://www.foodnetwork.com/recipes/food-network-kitchen/chocolate-and-olive-oil-fig-cakes-recipe-2043301