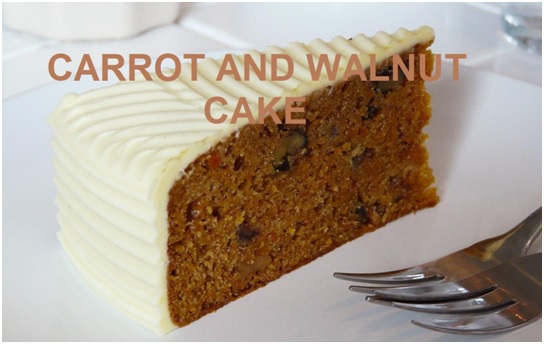 This cake is one of the best delectable desserts with a soft, moist, and fluffy texture. This is simple and scrumptious of all desserts, is bliss for cake lovers. Even if you do not like carrots, you are going to love this recipe. The carrot and walnuts used in the recipe can be made for any event party or everyday routine. Carrot is beneficial for your eyesight, and walnuts help to protect your brain, reduce cancer risk, and contains antioxidants. The recipe for the cake is quick and easy; you can make it from simple ingredients from your kitchen. The cake can be generously served to eight people.
As a kid, I never liked carrots and other vegetables. My mom used to come up with a new great recipe to feed me every healthy food and this cake is also one of these memories. When she made it the first time, not only me, everyone loved this dessert. I suggest you make this recipe at home your kids are definitely going to love this recipe. 
The cake can be served in a simple dish or plates like a dessert or a simple snack for everyday routine. The preparation time for the cake is 1 hour and 15 minutes.
Ingredients for Carrot and Walnut Cake
2 cups self-raising flour
1 teaspoon mixed spice
1 teaspoon ground cinnamon
1 cup soft brown sugar
2 cups grated carrot
1 cup chopped walnuts
1 cup vegetable oil
3 eggs, beaten lightly
Cream cheese frosting
125 g cream cheese at room temperature
2 teaspoons finely grated lemon zest
1 1/2 cups icing sugar
Walnuts for garnishing
How to Make Carrot and Walnut C

ake
Preheat oven at 180˚C / 160˚C. Grease 2.5 inches deep and 7.5 inches square cake and line it with baking paper at bottom and sides. Take a bowl and sift flour, cinnamon spice. Add and combine carrot, chopped walnuts, sugar, oil, and eggs. Spread it into a baking pan. Bake the cake for 1 hour and 15 minutes and check if the cake is cooked by inserting a toothpick. Remove it from after the oven and place it aside for 10 minutes. Then turn the cake out to a cooling wire rack. To make the cake frosting, beat cream cheese, lemon zest using the electric mixer. Gradually add sugar and beat the mixture to combine it. Spread the cream cheese frosting on the cake and sprinkle walnuts on it.
Enjoy this simple and delicious carrot and walnut cake with your family!
See following links for other recipes of Carrot and Walnuts cake:
https://www.oversixty.com.au/lifestyle/food-wine/carrot-and-walnut-cake
https://www.chelsea.co.nz/browse-recipes/carrot-and-walnut-cake/