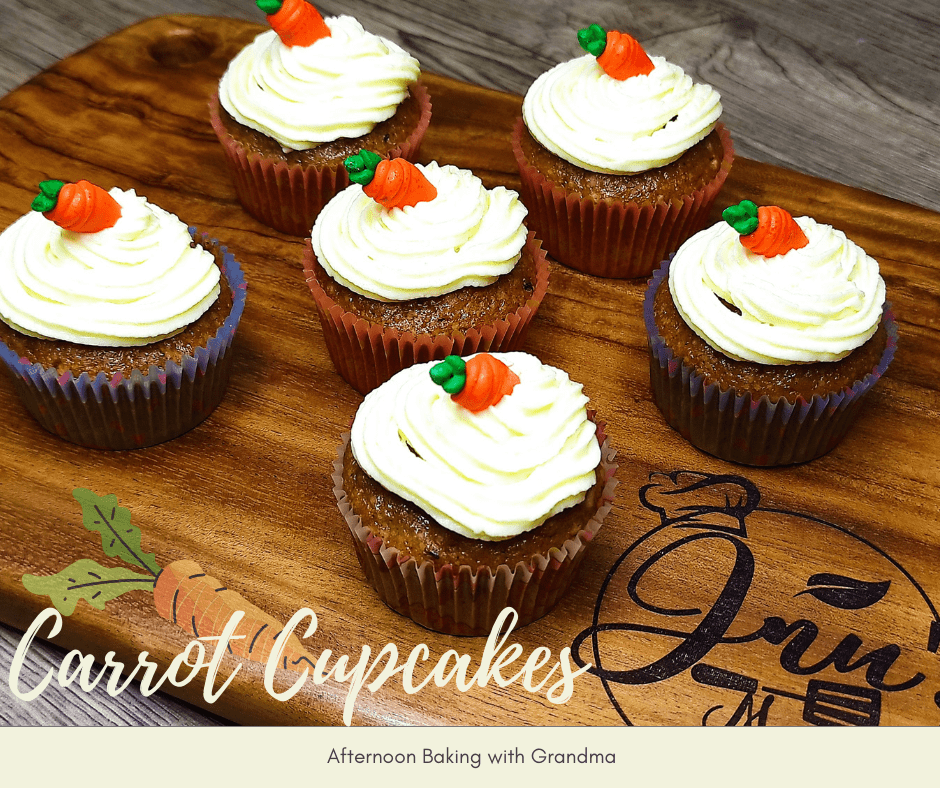 After baking Korean cream cheese bread, my husband started to love baking too. He began to bake cupcakes because he thinks they are easier than bread and much quicker to prepare. After all, there is no need to prove them. This recipe can give you 12 cupcakes. Though he is not so good at piping the cream cheese frosting into the cupcakes, I think they still look decent with the help of edible carrot candy toppers. The cupcakes are also delicious, especially the second day, as all ingredient's flavors were infused into each other. 
Using vegetable oil also makes the cupcakes moist. He also prefer grating the carrots than using a food processor because of the texture, just like how I love the contrast of chopped walnuts crunchy texture to the soft cupcakes. 
The cupcakes with frosting can be stored in the fridge for up to 1 week. Just let them sit for 20-30 minutes before serving them. 
Ingredients for Carrot Cupcakes with Cream Cheese Frosting
For the Cupcakes:
2 eggs, room temperature
1/2 cup vegetable oil
2/3 cup granulated white sugar
1/4 cup brown sugar
1 teaspoon vanilla extract
1 teaspoon baking powder
1 1/4 cup all-purpose flour
1/4 teaspoon salt
2 teaspoon ground cinnamon
1 teaspoon nutmeg
1/2 cup raisins
1 cup carrots, grated
1/2 walnuts, chopped
edible carrot cake toppers (optional)
For the Frosting:
8 ounces cream cheese, softened
1/2 cup butter, softened
1/2 cup powdered sugar
How to Make Carrot Cupcakes with Cream Cheese Frosting
Preheat the oven to 180°C / 350°F  and line a 12 cup muffin pan. 
In a large bowl, combine eggs, vegetable oil, white and brown sugar, and vanilla extract. Whisk until well combined. Add baking powder, flour, salt, cinnamon, and nutmeg. Whisk again until ingredients are incorporated. Put raisins, grated carrots, and chopped walnuts and use a spatula to mix the ingredients.
Scoop about two tablespoons of cupcake batter into the baking cups. Bake for about 25-30 minutes or until a toothpick inserted comes out clean. 
Meanwhile, prepare the cream cheese frosting. Combine cream cheese and powdered sugar and beat until smooth. Add butter and beat again until just combined—transfer frosting into a piping bag.
Let the cupcakes cool completely before frosting. Using any piping tip that you like, pipe down the frosting into the cupcakes and decorate with the edible carrot cake toppers, or you can also shave some carrots for toppings.
To see the original recipe that inspired this one, check out the recipe for Carrot Cupcakes with Cream Cheese Frosting  found at Jnu's Menu.