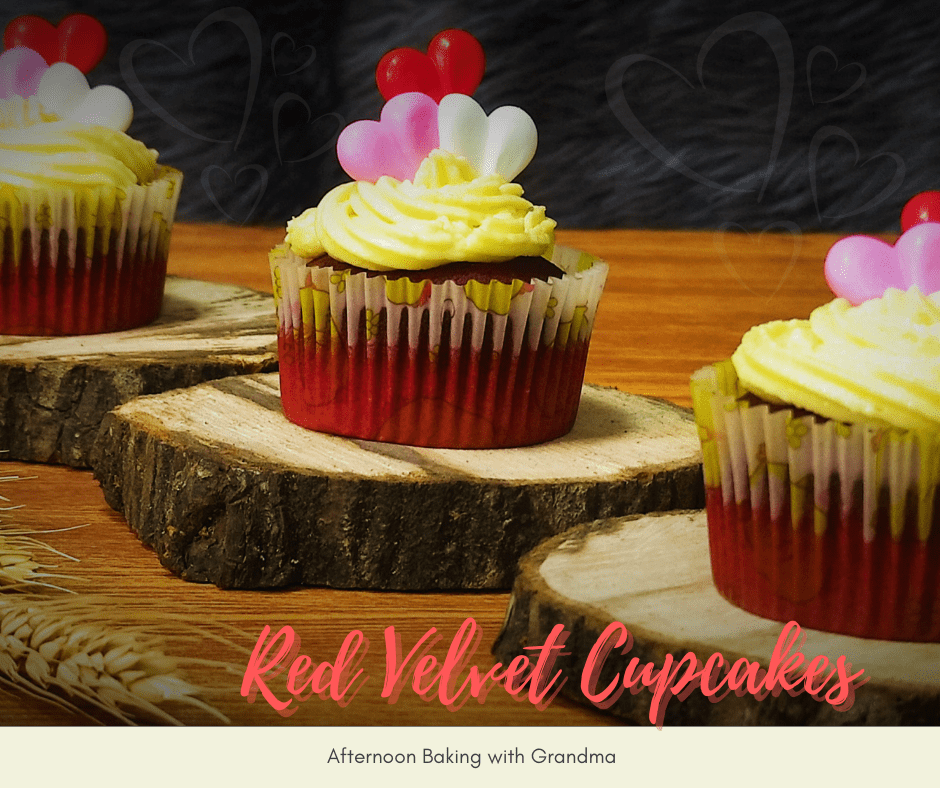 I can say baking is a newfound hobby of my husband, just like many others in this pandemic, from carrot cupcakes to these red velvet cupcakes, which you can also make for your special someone. This time he tried to mix butter and oil as he loves the flavor of butter but still wants moist cupcakes, so he used both. These cupcakes are also not so sweet, but depending on your preference, you can add 1 cup sugar instead of 3/4 cup only. 
He used three teaspoons or one tablespoon of red gel food color, but depending on the type or brand you will use, try to gradually put the food color in teaspoons until you achieve the color you like. The vanilla cream cheese frosting is the perfect match for these cupcakes. I hope you give this recipe a try and  Enjoy baking!
Ingredients for Red Velvet Cupcakes
For the Cupcakes:
1 1/4 cup flour
2 tablespoons cocoa powder
1 teaspoon baking powder
1/4 teaspoon salt
1/4 cup butter
3/4 cup granulated white sugar
1 egg, room temperature
1/4 cup vegetable oil
1 teaspoon vanilla
1 teaspoon vinegar
1 tablespoon red gel food color
1/2 cup buttermilk or (½ cup milk + ½ tbsp vinegar)
edible candy toppers (optional)
For the Vanilla Cream Cheese Frosting:
4 ounces cream cheese, softened
1/4 cup butter, softened
1/4 cup powdered sugar
1 teaspoon vanilla 
Note: double the amount if you want more frosting
How to Make Red Velvet Cupcakes
Preheat the oven to 180°C/350°F and line a 12-cup muffin pan. 
Sift and mix flour, baking powder, salt, and cocoa powder in a bowl. Set aside.
In a separate bowl, beat butter and sugar. Add egg, vegetable oil, vanilla, vinegar, and food color until well combined. Gradually add flour mixture alternating with buttermilk. Use a spatula to scrape the sides of the bowl.
Scoop about one tablespoon of cupcake batter into the baking cups. Bake cupcakes for 18-20 minutes or until a toothpick inserted comes out clean. Let the cupcakes cool completely.
While waiting for the cupcakes to cool down, beat cream cheese, butter, powdered sugar, and vanilla. Transfer in a piping bag and frost the cupcakes. 
Decorate with candy toppers if you have this optional ingredient. 

To see the original recipe that inspired this one, check out the recipe for Red Velvet Cupcakes found at Jnus Menu.