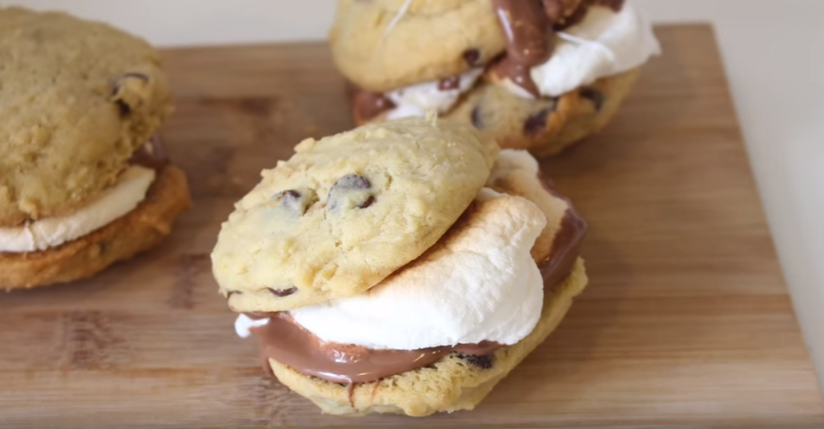 You just have to make some of these cookies over a weekend because thee chocolate chip cookie S'mores are just crying out to be made .. how can you resist because I can't
What delicious yummy exciting looking cookies that would be so perfect with that mug of hot chocolate.. great for those snuggly nights in by the fire watching a movie
I really love these cookies as soon as I found the recipe .. happy baking these cookies
This great recipe has been brought to you by The Baking Bomb on YouTube , thanks for sharing this recipe with us
Here below is the recipe and the video tutorial both from the YouTube channel
Recipe: ❤
Cookie Recipe:
250g softened butter
2 1/4 cup plain flour
1/2 tsp baking soda
2 eggs
3/4 cup brown sugar
1 cup chocolate chips
1) Preheat oven to 375F, line baking sheets with parchment paper.
2) Combine butter and sugar together, then add 2 eggs and mix.
3) Add in your dry ingredients and mix.
4) Stir in your chocolate chips, and use an ice cream scoop to transfer cookie dough to the sheets.
5) Bake in preheated oven for around 10-12 mins (keep an eye on them and bake longer if needed)
Assembling Process:
6 marshmallows
– Place your marshmallows on a lined baking sheet and toast them in an oven under med-broil for around 2-3 mins (make sure you keep an eye on them, otherwise they will burn!)
1. Place 1 cooled chocolate chip cookie on a plate
2. Spread some melted chocolate on top, and transfer the toasted marshmallow.
3. Place another cookie on top and you're finished!