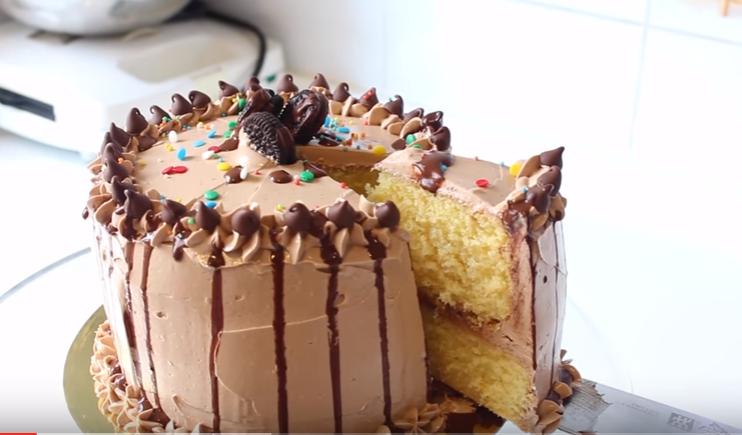 Looking to make a Birthday cake that is for an older child or adult ? how about making this amazing vanilla & chocolate one that really does look delicious
Making that special cake does mean a lot I really love making cakes to celebrate special occasions as there is nothing quite like a homemade cake.
This cake recipe has been brought to you by The Baking Bomb on YouTube , thanks for sharing it with us
Here below is the recipe and the video tutorial to watch both from YouTube
Recipe: ❤
200g self raising flour
200g softened butter
200g granulated sugar
4 eggs
1/2 tsp vanilla extract
If you want to dye this cake a different colour, just add in a couple drops of your food coloring when you are adding in your vanilla extract! 🙂
Frosting:
2 sticks butter
1 1/2 cups icing sugar
3 tbsp cocoa powder
4 tbsp melted chocolate
♥ Preheat your oven to 350F/180C and line 2 cake tins with parchment paper, and grease with butter.
♥ In a bowl, combine your butter & sugar. Then add in your 4 eggs, one at a time but you can add the final 2 in together. Add in your vanilla extract and mix.
♥ Add 1/3 of your flour, mix, then repeat with the remaining 2/3's. Fold everything together with a spatula.
♥ Transfer your mixture to your cake tins and bake in the preheated oven for 35-40 mins (use a toothpick to check if it is done).
♥ When cooling, create the chocolate frosting by creaming together the butter, icing sugar, cocoa powder and melted chocolate. Spread a thin layer of frosting in between the cakes to stick them together, then a crumbcoat around to keep in the crumbs. Place in fridge for 20 mins.
♥ Transfer your icing to a piping bag fitted with a star tip, and pipe a border around the top and bottom of the cake. Decorate with chocolate chips, oreos and sprinkles!