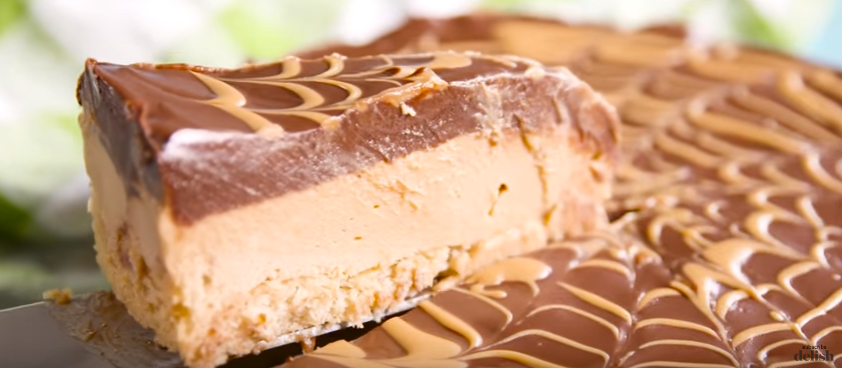 Chocolate Peanut Butter Tagalong Pie. … Buttery shortbread cookie crust topped with a sweet, creamy, peanut butter filling and finally, silky dark chocolate ganache swirled with peanut butter. This gorgeous pie is a total showstopper!
When I came across this pie I was so impressed at how it looks a creamy amazing pie that I know without at doubt you will love
This great pie recipe has been brought to you by Delish on YouTube , thanks for sharing this pie with us
Here below is the recipe and the video tutorial both from the YouTube channel
DIRECTIONS
1. Preheat oven to 350 degrees F.2. Make the Crust: Press sugar cookie dough in an even layer to fill the bottom of a 9" springform pan. Bake until golden, about 20 minutes. Let cool completely.3. Make the Filling: In a medium bowl, combine cream cheese, 1 1/4 cup peanut butter, light brown sugar, powdered sugar, and vanilla. Beat with a hand mixer until light and fluffy. Set aside while you whip the cream.
4. In a separate large bowl, beat 1 cup heavy cream until stiff peaks form. Add half of the peanut butter mixture and beat with a hand mixer until evenly incorporated. Add the remaining peanut butter mixture and beat until fluffy. Spread mixture evenly into the cooled cookie crust. Freeze for 30 minutes, until the peanut butter layer is firm.
5. Make the Ganache: Place chocolate chips in a medium, heatproof bowl and set aside. Heat the remaining heavy cream in a small saucepan over medium heat. When bubbles begin to break the surface around the edges of the pan, turn off the heat. Pour the hot cream over chocolate chips, whisking constantly until the sauce is smooth. Pour over the frozen peanut butter layer.
6. Immediately, before the ganache sets, drizzle the melted peanut butter in a spiral pattern around the chocolate layer. Starting at the center of the pie, drag a toothpick gently in a straight line to the edge of the pie. Repeat to continue pattern all the way around the pie to resemble a spider web.
7. Place pie in freezer for another 15 minutes. Remove from springform pan; slice and serve cold.
INGREDIENTS
1 (16.5-oz.) tube refrigerated sugar cookie dough
8 oz. cream cheese, softened
1 1/4 c. creamy peanut butter
1/2 c. packed light brown sugar
1/2 c. powdered sugar
2 tsp. pure vanilla extract
1 1/2 c. heavy cream, divided
2/3 c. chocolate chips
1/4 c. melted peanut butter