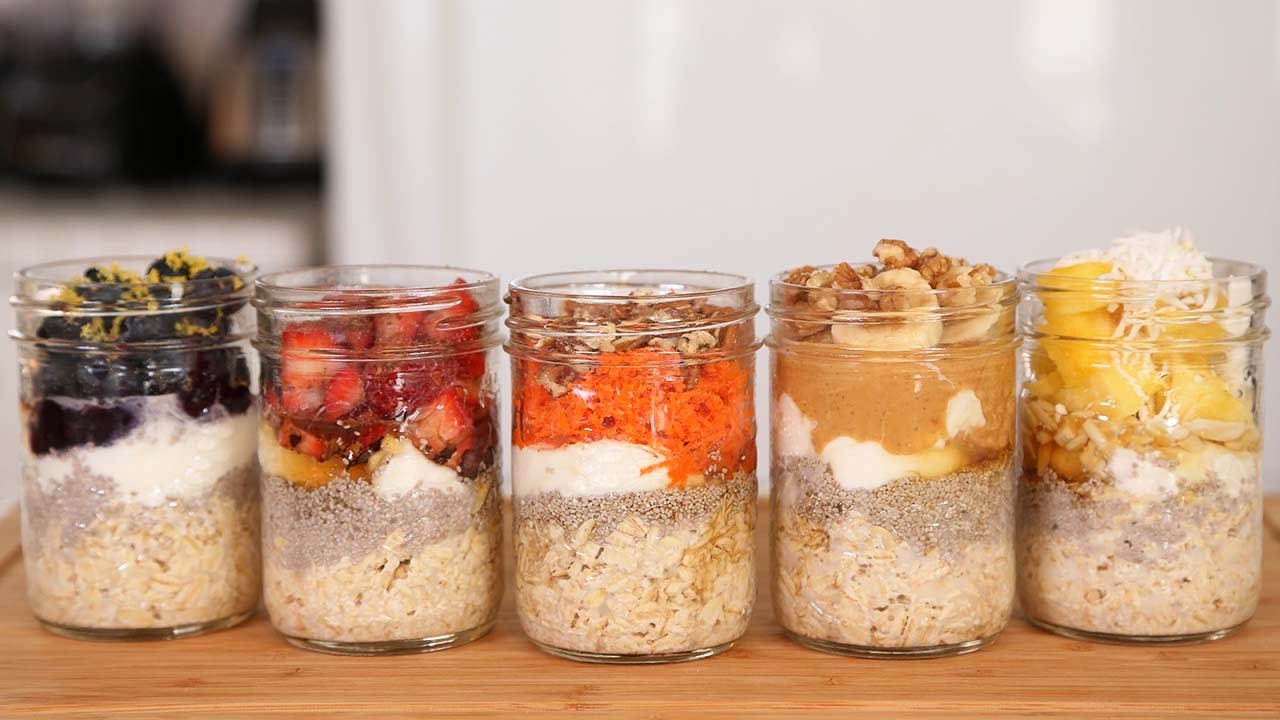 If you want to make something quick and easy for breakfast that you can take with you for that grab and go breakfast and are struggling to know what to make then how about making one of these overnight oatmeal dishes .. that look so delicious
And with it being National Oatmeal Day I wanted to find you that perfect recipes but I think I have found Five
These recipes have been brought to you by The Domestic Geek on YouTube , thanks for sharing these recipes with us
Here below is the ingredients you will need for each oatmeal recipe and the video tutorial to watch both from the YouTube channel
We're making 5 different overnight oat flavours including, carrot cake, blueberry lemon, chocolate strawberry, banana nut & pina colada.
For the oatmeal:
1/3 cup rolled oats
1 tbsp chia seeds
¼ cup Greek yogurt
¼ – ½ cup almond milk (soy, hemp, rice or dairy work too)
Carrot Cake
¼ cup carrot, shredded
1 tbsp maple syrup
2 tbsp pecan, chopped (optional)
¼ tsp cinnamon
Blueberry Lemon
1 tbsp blueberry jam
½ tsp lemon rind
¼ tsp vanilla extract
¼ cup blueberry
Chocolate Strawberry
1 tbsp honey
1 tsp cocoa powder
1 tbsp chocolate, shavings
¼ cup strawberries, hulled and sliced
Banana Nut
1 tbsp honey
1 tbsp natural nut butter
2 tbsp walnuts, chopped (optional)
½ banana, sliced
Pina Colada
1 tbsp honey
1 tsp coconut, shredded
1 tbsp almonds, slivered
¼ cup pineapple, diced
Combine all of the ingredients in a mason jar.
Add less milk or more milk based on how thick you prefer your oatmeal.
Shake well and refrigerate overnight.
Enjoy it cold, straight from the fridge or heat it up for a healthy, hot breakfast!
NATIONAL OATMEAL DAY
National Oatmeal Day is observed annually on October 29. This is a day to enjoy one of America's favorite breakfast foods. 
There are many health benefits to eating oatmeal.
A bowl of oatmeal daily can lower cholesterol.
It may reduce the risk of heart disease.
It may reduce your risk for cancer. (according to the American Cancer Society, eating a diet high in fiber may help reduce your risk for caner)
Oatmeal is low in fat.
Oatmeal is low in calories.
Oatmeal is a good source iron and fiber.
Some favorite oatmeal toppings include: brown sugar, sugar, cinnamon, peaches, blueberries, strawberries, bananas, nuts and granola.
Oatmeal has a long tradition in the state of Vermont which originated with the Scottish settlement in the state.  Although there were many variations, most oatmeal recipes began with steel cut oats.  The oats were soaked overnight in cold water, salt and maple syrup.  Early the next morning, the cook added ground nutmeg, ground cinnamon and, if desired, ground ginger.  The pot was then placed over heat and cooked for approximately 90 minutes. It was then served with cream, milk or butter.
Vermont leads the United States in per capita consumption of cooked oatmeal cereal.
The Quaker Man is one of the oldest advertising mascots in America.  He was registered by the Quaker Oats company as the first trademark for a breakfast cereal in 1877.
Article Source :http://www.nationaldaycalendar.com/national-oatmeal-day-october-29/