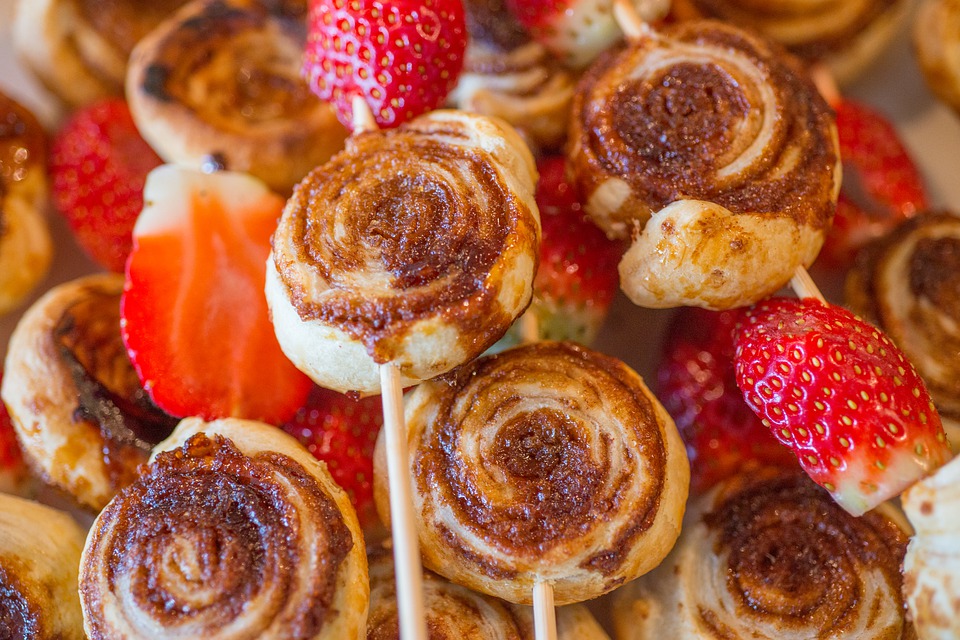 These cinnamon roll pops or cinnamon rolls on a stick is another sweet treat you can make for your kids' birthday, Halloween party, or just an ordinary day snack.
If I don't have cream cheese, I usually add strawberries or any fruits available together with the mini cinnamon rolls on the stick.
Also, if you don't have pumpkin pie spice, you can substitute it with 1 and ½ teaspoons of ground cinnamon, ½ teaspoon of ground nutmeg, ¼ teaspoon ground cloves, and ½ teaspoon ground ginger. If you don't have all of these, cinnamon by itself is another good option.
Ingredients for Cinnamon Roll Pops
1 cup packed brown sugar
3 teaspoons pumpkin pie spice
1 (8 ounce) can refrigerated dough sheet
1/4 cup butter, softened
16 lollipop sticks
For the glaze:
1 ounce cream cheese, softened
1 tablespoon butter, softened
1/4 cup powdered sugar
1/4 teaspoon vanilla
3 teaspoons milk
strawberries, halves (optional)
How to Make Cinnamon Roll Pops
Preheat the oven to 350°F. Grease a 16-mini cup muffin pan with baking spray. Mix brown sugar and pumpkin pie spice in a small bowl and set aside.
On a lightly floured surface, unroll the dough sheet. If you are using a crescent roll, you need to pinch the perforated seams to create a smooth and whole rectangle dough, but if you are using a seamless one, then there is no need for this process.
Spread the ¼ cup butter on the dough and then sprinkle the cinnamon-sugar mixture. Gently press the mixture and roll the dough up tightly, starting from the longest side. Slice the dough into 16 pieces about ¾ inch and put them, cut side down, into the prepared muffin pan.
Bake for 13 to 15 minutes or until golden brown. Remove from the oven and pan; insert lollipop sticks into the side of each roll. Cool completely on a wire rack.
While cooling, prepare the glaze. Beat cream cheese and butter until smooth. Slowly add powdered sugar, vanilla, and then one teaspoon at a time for the milk. You can add more powdered sugar if you want a thicker glaze.
Using a spoon, drizzle the glaze on top of the cinnamon rolls or create a small piping bag by transferring glaze in a small food plastic and cut a tiny hole on the corner. Squeeze the bag and pipe the glaze over the mini rolls.
To see other recipes for Cinnamon Roll Pops, check out: