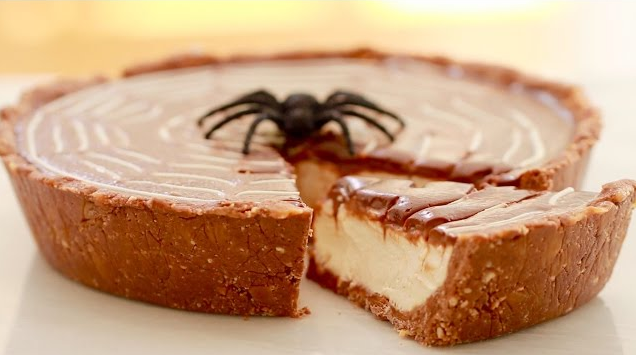 If you need to make a no-bake pie, yummy and super easy to make, you are in the right place.
Pie shell made out of Twix candies, creamy and rich filling with salted caramel, and delicious chocolate ganache topped with white chocolate drizzle – just turned out to be my new favorite recipe so far.
You also can make the pie shell with just regular graham crackers or vanilla wafers, put Twix candy is the most chocolate and caramel fragrant option.
This will be the easiest way to create a pie crust, just throw some candies in a food processor, pulse it and pie shell is ready.
The best time of the year to make this cake is Halloween, but wait, why to wait that long, right? Grab some Twix candies, cream cheese, and salted caramel and whip up this no-bake dessert which is ready in a blink of an eye.
Have on mind that salted caramel sauce is something I really suggest you have at least a jar of it in the fridge for dessert emergencies. It is the key ingredient in this recipe and also it transforms regular recipes into decadent and flavorful desserts.
Ingredients for No Bake Twix Pie 
25 fun size or 6 regular Twix
2 cups (454g) cream cheese, at room temperature
1 ½ cups (350ml.) cream
1 teaspoon of vanilla extract
⅓ cup (90g) salted caramel sauce
½ cup (120g) milk chocolate
½ cup (120ml.) cream
½ cup (120g) Melted white chocolate for piping
How to Make No Bake Twix Pie 
Place in all of the Twix chocolate into a food processor and blitz until fine crumbs forms.
Using a 9inch pie tin, transfer all of the Twix mixture and with your hands spread it all around. Place whole pie tin in the refrigerator to set and meanwhile prepare the caramel filling.
In a large bowl add in your cream cheese and vanilla extract. Cream both of these well together and add in the whipping cream. Whisk again until nice and thick. Then, add in the caramel sauce and whisk until fully incorporated.
Transfer the caramel filling into the chilled pie crust and level out with the help of a spatula. Let it rest again in the refrigerator until you make the chocolate ganache.
Heat up some cream and pour it while it's still hot on top of milk chocolate in a bowl. Wait for about 2 minutes and stir until smooth and combined.
Pour the chocolate ganache over the whole pie and while it's still not set, decorate the Twix pie with white chocolate. With the help of a toothpick make some spider web on top.
To see the original recipe that inspired this one, check out the recipe for No-Bake Twix Pie found at Bigger Bolder Baking.